Note: This is a blog series I'm writing for the Cascade Bicycle Club blog.
Week #1 of CTS Training: 28 Miles, 1160' Elevation
Week #2: 35 Miles, 1200' Elevation
Week #3: 43 Miles, 2000' Elevation
Week #4: 55 Miles, 2387' Elevation
Week #5: 67 Miles, 1849' Elevation
Week #6: Skipped It to Go Running
Week #7: 76 Miles, 3500′ Elevation
Week #8: 82 Miles, 3500′ Elevation
Week #9: 92 Miles, 4700′ Elevation
Week #10: 65-Mile Loop of Flying Wheels
Week #11: 88 Miles, 3020' Elevation
Week #12: 99 Miles, 2880' Elevation
Week #13: 60.6 miles 2,510′ Elevation, 95.1 Degree Heat
Week #14: Skipped It to Go Camping
Riding the STP
The STP is in 14 weeks. I'm taking it on faith that some day, 14 weeks from now, I will be able to ride back-to-back centuries.
Right now, I can't imagine it.
I'm writing this blog series to chronicle this imagining, this journey from rookie, middle-aged rider to – impossibly! – STP veteran. Maybe something I write here will resonate with your own experience, with your own imagining of the impossible.
I first got on Blue, my beautiful borrowed road bike, on February 2 with a 15-mile ride. Probably the longest I've ever ridden in my life. And 0.6 percent of the total 2,494 miles that Cascade recommends for STP training.

On that gray, cold, rainy day, I rode with a beginner group and learned from the kindly ride leader that my right hand controls the gears on my back wheel, and to use my left hand/front gears only for the really steep stuff.
Biking's a lot easier when you know that.
The countdown to being able to ride 100 miles a day officially begins with the start of the 
Cascade Training Series
 this Saturday. I've been training for the training, and nearly every ride I take is the longest I've ever ridden.  After my first 15-mile ride, I rode 19.67 miles.  Two weeks after that I rode the 
Chilly Hilly
, 32.78 miles according to my phone app. I spent the next couple of weeks in the 30s, and broke 50 for the first time last weekend.
It takes a long time to ride 50 miles.
I dread every ride, afraid of the distance, afraid of the hills. And at the end of every ride, I can't wait to get back on Blue.
Last weekend's ride was the first time I've ridden in warm sun. Makes a difference to be warm. My phone app says it was 50.9 miles; the
Cascade Free Daily Ride
description says it was 42.5 miles (with 3384 feet of elevation). I'm going to believe my phone.
We started in Sammamish and rode to Snoqualmie Falls, and then around a beautiful, rolling loop through Weyerhauser property. With the road stretching out in a gentle, glorious ribbon, snowy mountains in the distance and the Snoqualmie River sparkling below me, I laughed out loud as I streamed down the hill. "Thank you," I called to the ride leader. "Thank you for taking me here!"
"Are you still thanking me?" she asked later on a long uphill.
I decided then that I would choose something to be thankful for during every CTS ride. That I would hold that appreciation as I work up the hills, and the miles, and the impossible distance.
On Saturday, I was thankful for the warm breeze on my face on that beautiful day.
Week #1 of CTS Training: 28 Miles, 1160' Elevation
I knew it was going to be good when I saw the sign at the entrance to the park:
CTS Parking
Professionally printed, clear logo, easy to read. This is going to be a well-organized, thought-through event, I thought as I followed the signs into the parking lot for the first CTS ride.
"Good morning!" the gentleman in the yellow ride leader jersey called to me from the next car.
Friendly, too, I thought as I smiled hello.
I was very early for that first morning of STP training. I've been chronically late to all my pre-training rides, stressed and scrambling with the details of riding a bike: helmet and sunglasses and bike shoes and water and food and bike rack and pumping the tires. Different from running, where all I need is a jog bra, a pair of shoes
(maybe
), and
my dog
.
This biking thing has lots of details to keep track of.
I was bound and determined to be early and calm and ready to go for my first CTS ride. It does not, however, take an hour to drive from Seward Park, where I live, to Magnuson Park, where the ride started. So I had plenty of time to hang out in the cold morning wind and recheck my list:
• Tires pumped
• Helmet
• Glasses (clear and tinted)
• Bike shoes
• Booties
• Hat
• Food
• Water
•  Gloves (warm and fingerless)
• Cue sheet
• Phone
• Tampons
• Ibu
• Car locked
• Headlights off
I typed out that list a couple of weeks ago after I arrived late to a 40-mile ride out to Black Diamond and forgot sunglasses. My eyeballs still don't feel right. I was so stressed about being late that morning that I forgot to lock the car. And then paused my GPS app rather than starting it. I wanted none of that drama for this first ride.
Calm and freezing, I was ready to go when my group, Yellow #1, rolled out of the parking lot, right on time. I thought about the proverb: the longest journey starts with the first step. I don't care if it's cliché: I was thrilled to be taking that first step with this group of riders around me.
Unfortunately for me, that first step was a ride to Seward Park, where I'd just driven from. "Hey Wayne!" I called to my ride leader when we stopped at Seward Park. "I live a half mile up the hill. You all want to come over for coffee?" Wouldn't my partner have been surprised.
"Maybe next time," he yelled back.
Prior to the start of CTS, I agonized over whether to sign up for Yellow (12-14 miles an hour) or Green (14-16 miles an hour). I asked lots of experienced riders and got all kinds of conflicting advice:
"Stretch yourself, you don't want to be bored," to "Every ride will be the farthest you've ever ridden, don't make it the fastest, too." I tried riding too far, too fast on a training ride and hated the weepy, frustrated feeling of being left behind. So I've decided to ride Yellow.
Riding in Yellow #1 was like a comfortable jog. Just right for distance, which will be stretch enough once we get to 60, 70, and 100 miles. I'm in the right group.
There are about 20 of us in Yellow #1 including ride leader, sweep, and many floats. Many, many floats. Did I already say there were a lot of floats?
As we headed south toward my stomping grounds, I felt a bit, well, like I was on a well-chaperoned field trip. When my pump fell off for some reason (note to self: stop when the bike makes a new noise), three men stopped to watch me Velcro it back on and tell me I did it wrong. Which I appreciated, but it is a bit intimidating to fix my bike with an audience.
I don't like the feeling of being chaperoned and so I practiced feeling appreciative instead:
I appreciated feeling looked after and supported; I appreciated knowing people will stop and help if my bike breaks; I appreciated learning a new route through the backside of the UW; I appreciated the safety lesson about not riding so closely to parked cars; I appreciated the friendliness of the other riders; I appreciated how pretty the ride was; I appreciated that the rain started as we were pulling back into the parking lot at the end of the ride.
Most of all, I appreciated how easily my legs and my bike rolled over those 28 miles in the chilly spring weather. I can't wait for next week's ride.
Week #2 of CTS Training: 35 Miles, 1200' Elevation
I love it when the weather forecast shows this: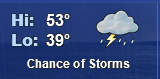 when I'm looking at this: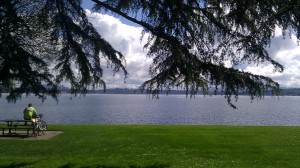 CTS ride #2 looped around Mercer Island from Magnuson Park — about 35 miles with 1,200 feet of climbing. I'd been fighting — and losing — a head cold all week and was not delighted with the prospect of biking in a thunderstorm with a stuffy nose and cough, still bleery from a dose of Nyquil. I spent the first hour of the ride bitching and moaning to myself until I got some calories at our first rest stop and realized it was a gorgeous day around me, regardless of what my weather app was saying.
Yellow 1 rolled out of Magnuson Park parking lot promptly at 9 a.m. (I'm loving that about CTS: none of the chronic tardi-creep that afflicts every organization I've ever worked or played in.) The morning was blustery and cold; I bet the guy parked next to me that it would rain. It sure felt like rain. But as we rode down the Burke Gilman trail, through the back of the UW, through Montlake and over the I-90 bridge, the sun began to break through the clouds. By the time we were on Mercer Island, it was sunny. Not a thunderstorm in sight.
I was curious about the route around Mercer Island. A couple of weeks earlier I rode it by myself and got lost making my way to the eastern side of the island. Flustered with riding my bike while looking at the directions, I unclipped to figure out where I was. Unfortunately, I unclipped a different foot than the one I tried to put down on the curb and keeled over in that ridiculous, slow motion, oh shit! biker's fall. Banged myself up pretty good, which I was very brave about at the time.
I didn't fall this time around the island, despite the best efforts of the treacherously slippery turtles marking the shoulder around the blind, hilly curves. I eventually found myself riding at the back of the group with the sweep — and discovered that it is a lot quieter back there. The middle of the group is busy yelling hazards, which is clearly the right thing to do and which I try to enthusiastically participate in, but I find it kind of stressful and shout-y. Much quieter tooling along in the back.
This ride's sweep asked me if I were Kathryn and said he'd read my blog post about last week's ride. I asked him if he recognized the bike, since there are a lot of us and Blue
is
a lovely bike. He said he recognized my bicycle pump. Not sure what I think about my bike pump being more memorable than either myself or Beautiful Blue!
The last time I rode around Mercer Island, I had to drag myself up and over the last hilly stretch; this time I felt strong — if sniffly — all the way around. I've started gauging my biking fitness by what point I still think I'm going to run errands after I finish the ride. Mile 15 I'm still thinking I going to the grocery store; last week at mile 20 I was sure I was going to a fuchsia sale at the Center for Urban Horticulture — but couldn't get out of the car. I was able to rally after this ride and go to the CUH's plant sale and buy two hardy geraniums.
"Are you wiped?" my partner texted me after the ride. "Nope, just tired," I replied, and then didn't get up the rest of the day. The geraniums can plant themselves another time.
With a head cold, I can't say l felt particularly grateful during the ride, other than to be glad not to be riding in a thunderstorm. It was only later, at home, looking at the photos I took of the ride, that I noticed to be grateful for this extraordinarily beautiful city that I often take for granted as I bike and run and live in it.

Week #3 of CTS Training: 43 Miles, 2000' Elevation
By mile 40, I'm checking my middle-aged aches and pains:
Back (bulging disc) doesn't hurt; knees (chondromalacia patella) are a little sore but not painful. At the beginning of Saturday's ride my elbows hurt, a lot, but by mile 40 I had either acclimated to the pain or they had healed themselves.
So far, so good.
Mentally, Saturday's ride felt far. Looking at the map beforehand, I felt overwhelmed by the huge loop from Redmond, down Lake Sammamish to Issaquah, west to Lake Washington along I-90 and under 405, north along Lake Washington past Medina and Kirkland, and then somehow we're in Bothell with a long road back to Marymoor Park. These are places I would usually drive to!

Before setting out into the gray, cold, drizzly morning, I had to remind myself that, so far, I have often dreaded the ride, and that the ride is always exhilarating. It helped that I'd written that down a couple of weeks ago, a clear promise to myself that it was worth getting into the car and driving to Marymoor.  It's funny how easy it is to forget the payoff when faced with 50 miles of gray drizzle.
Our uncanny good weather luck continued to hold, however. (Now I've jinxed it!). A cooling mist for the first half of the ride and even some sunshine by our second rest stop. So far, we haven't had to ride in driving rain.
Rest stops are about every dozen miles and are a prompt 10 minutes each. Which is not a lot of time when you have to wait in line for a toilet to get rid of that big cup of coffee you drank on the drive over to Marymoor. "I have to decide between peeing and eating," I joked after the ride.
But, again, I appreciated the punctuality of the CTS leaders and floats, keeping us moving and on task.
"Rolling out in one minute," a float called as I gulped down the last of my hard-boiled egg covered in hemp seed hearts and nutritional yeast.
"Is that a piece of fish?" a fellow rider asked, eyeing my weird food dubiously.
I explained that it was one of my
chicken
's eggs and immediately connected with another urban chicken owner. We tried to chat about chickens but it's tough to talk while biking on a highway.
This ride was called the "Eastside Urban Loop" and I am weary of riding in traffic. Cars are terrifying and I don't need to ride on Coal Creek Parkway on a bicycle again anytime soon. I'm looking forward to quiet country backroad scenery, to mountains and farmland and river valleys.
At about mile 30, one of the floats led a splinter group off at a faster pace. From the back, I watched them take off and remember thinking, "Damn, now I get to feel guilty for choosing to go slow." Nevertheless, at the next regrouping, I found myself taking off with them.
It felt so good to go faster. Freeing.  Happy, even on a busy Eastside parkway. Those ten miles, up a big hill, were the most fun I had all ride.
At the debriefing at the end of the ride, our ride leader suggested in no uncertain terms that those of us who took off should consider riding Green (14-16 miles an hour) next week.
Yellow #1, I feel like I'm cheating on you, but I think I might try Green. It's me, not you. You've been a wonderful place to get started (thank you Wayne the Ride Leader and Mark the Safety Guy and all the floats), but I think I need to ride faster.
Can we still be friends, particularly if I get left behind with a sore back, knees and elbows on next Saturday's 55-mile Green ride out the country roads to Snohomish?
Week #4 of CTS Training: 55 Miles, 2387' Elevation
55 miles. That's the kind of distance where people start to look impressed when you say, "Oh yeah, I rode 55 miles today."
I need to start training.
I moved from Yellow (12-14 miles an hour) to Green (14-16 miles an hour) for Saturday's ride from Marymoor out to Snohomish. I was nervous beforehand, but in an excited kind of way, not a dreading kind of way. I was curious about what 55 miles would feel like, but mostly I was looking forward to the route eastwards, to biking somewhere I'd never been before, to
getting 
somewhere.
My subconscious had something to say about the ride: I had a dream the night before that my 7-year-old daughter was joining me on her kid-sized, gearless bike. In the dream I felt a little nervous about how she would manage 55 miles.
But the faster pace was fine and if I hadn't started in yellow there would be no question about whether I could do it. The only difference between yellow and green that I could notice without a bike computer was that the pace didn't sag on the hills.
We set out north from Marymoor, rode up and over into the Snohomish River valley, along the valley for a ways, and then up and out of the valley. Almost immediately, we were in old Redmond, riding past old farms
and along rolling country roads, the busy-ness and congestion of the suburbs behind us. We passed a farm where a Bernese Mountain Dog (
my first love
) watched us with affable alertness and past an oddly jumping cow. I had a feeling I could ride a long, long way on country roads.
Well, except for the hills.
I usually have a good relationship with hills. I like to think of them as flats on an incline. I like the work out, I like getting to the top, I like how there is an end, usually in sight, if you keep pushing with patience. The rides I'm proudest of to date (the
Chilly Hilly
, the bonus CHEW ride) were hilly rides.
But there's a chance I might have been a bit, well, overly confident in my climbing abilities. I didn't get left behind, I didn't – heaven forbid! – hold up the group but I got pretty tired climbing in and out of that river valley. I ate my emergency Mocha Double Espresso Cliff Shot but it didn't help, or if it did I was too tired to tell.
It started to pour around mile 30 and we rode mile after mile in rain. I could feel puddles squishing in my shoes. I hadn't learned about the visor trick yet (thank you, Lamar!) and the rain dripped from my helmet in salty streams into my mouth. I fantasized about curling up in front of our gas fireplace when I got home.
We don't have a gas fireplace.
On a very busy, fast, four-lane road back into Redmond, the ride leader signaled for us to take over the right lane and ride abreast with a buddy, even though there was a bike lane. Cars could pass us on the left, so we weren't holding up traffic. I rode on the inside next to a nice, chatty woman and have never felt safer riding in traffic. I think the drivers out there felt sorry for the pathetic group of drowned rats riding down the highway on bicycles.
And then there was one last hill – not even a big hill – through the last light industrial section before getting back to Marymoor. And I ran out of gas. Rider after rider passed me as I slowly and humbly pulled my way up that damn hill.
When I finally got home, sat in a hot shower, and climbed into bed under the heating blanket on HIGH, I was so tired I felt like crying. So, yeah, I think I need to start taking this mid-week training recommendation more seriously. Next week is 65 miles.
Later that evening as I was putting the chickens to bed, after hosting a dinner party (which is something I'm
never 
doing after a long ride again), I was grateful I didn't have to get on Blue the next day.
I need to start training.
Week #5 of CTS Training: 67 Miles, 1849' Elevation
The day after riding 67 miles, I found myself considering the
Flying Wheels
' 100-mile loop.
This is one day after being so tired I couldn't fall asleep because my legs hurt too much; one day after being so tired that I tried to pour myself a glass of wine with the bottle corked (to my friends' great amusement); one day after I was filled with joyous relief to get off my bicycle at the end of the ride.
And now I'm thinking about an extracurricular 100 miles? I guess the bug has bitten.
Or maybe it was the sunshine. Much more fun than riding in cold rain.
When people ask me about the 67-mile route, I've been saying that we biked to Tacoma. But I have no idea how we got there.  "I just follow the butt in front of me," I say.
We rolled out of Renton promptly at 9 (can I say again how much I appreciate CTS' punctuality) in warm morning sunshine — a bit of a different climate from last week.
The warm weather posed a conundrum for me. I'd finally figured out cold weather gear: I was comfortable on my saddle in running tights, a running skort, and rain paints. But I didn't know what to do in hot sunshine.
I did some experimenting midweek: I rode the Cedar River trail in my partner's padded biking shorts and a skort, and was
desperate
to take off the bike shorts by the time I got to the turnaround point at the end of the trail. Padded bike shorts are like wearing a giant maxi pad and I don't get how you all can stand them. This clothing change was particularly exciting since I had read somewhere not to wear underwear on long rides and I had to take the skort off to get off the bike shorts. My shorts got caught in my bike shoes and I frantically danced around bare-assed, praying no one would come around the corner.
So what to wear for 67 miles in 80-degree weather? I settled on my running skort, which was fine except that by mile 50 the shorts part kept riding up. I think this is all a good excuse to buy a cute (unpadded!) biking skort. By the end of the ride, our ride leader was talking about butt cream which is an image I don't need in my head.
But I digress.
Moments after leaving the Renton City Hall parking lot we were on roads I'd never seen before with occasional views of Mount Rainier. There were a couple of jolly personalities on the ride and they, combined with the sunshine, set a happy tone. These training rides have tended to be very heads-down serious and it was a pleasure – energizing – to hear laughter and goofiness around me.
We had a quick rest stop at mile 20 and a luxurious 20-minute stop at around mile 40. I had been looking forward to that 20-minute stop all week. In fact, the ride had been on my mind all week, a huge task looming at the edge of my consciousness. I can't believe how blithely I signed up for all this; I mean, how hard could a bike ride be?
Ha!
There were two hills to speak of on the ride.  One was a long, hot climb up Peasley Canyon, which I'd never heard of, and another up Dash Point, which maybe I had. Later on the ride, I could see a big, steep hill ahead of us and my heart sank. And then, like a Christmas gift, the group turned to the right and we swept past the hill. "That was going to be a little less fun for a minute there," I joked with the rider behind me.
The view from Dash Point over Tacoma to Mount Rainier was dazzling, and then we were headed back towards Renton. Eventually we ended up on the Interurban Trail, although I am entirely unclear on how we got there. And I had my first experience with a serious headwind.
I kept thinking about penguins. If I stayed close to the group, I could pedal along easily in the breeze, like a penguin sheltered from the Antarctic blizzards by the big huddle of other penguins. But if I strayed behind I was lost, like the tragic baby penguin left behind in the storm in the 
Planet Earth
documentaries. Slowing to get over railroad tracks, I had to push as hard as I could to catch up, genuinely afraid that I wasn't strong enough and that I would get left behind in the Antarctic wind. I spent most of that long, monotonous trail tucked in behind a burly 28-year-old (thanks, Nathan!) and hung on for dear life.
And now that I've done 67 miles, I'm cockily thinking about 100. I mean, how hard could it be?
Week #6 of CTS Training: Skipped It to Go Running
I missed last week's ride. I'm so screwed.
I wasn't sitting around last weekend: I ran about 12 miles in the
Sunflower relay
in the Methow Valley.
But I wasn't biking, and as a result, I've lost some emotional momentum. I can't find any of
last week's
"how hard could it be" confidence.
I'm feeling scared. Scared of the 76 miles coming up this weekend; scared of the relentless progression to longer and longer rides. If my older brothers weren't riding the STP with me, if I hadn't paid for this training series, if I wasn't writing this blog (!), I'd be thinking about quitting about now.
But I'm not going to quit. So I guess I have to suck it up.
I thought a lot about biking while I was running in the Methow. I remembered back in the day when I found myself in love with more than one man at a time: biking and trail running feels a bit like that. Always dreaming of the other.
I ran Leg 2 of the Sunflower, which had a long, flat, hot stretch paralleling Highway 20. Not ideal running conditions for me, but oh! it would have been lovely on a bike. I ran the last 6.5-mile leg just for fun, trotting through fields of wildflowers with high vistas of the North Cascades. I couldn't wipe the goofy grin off my face – so in love with the trail and the place and the moment. You couldn't get there on a road bike. (Well, I couldn't anyway.)
I started off my 5.7-mile leg way too fast, of course, all buzzed with adrenaline and excitement. I was surprised how strong I felt, and thanked those hills I've been biking up recently. I passed runner after runner at the beginning of the leg – who cares that they were likely pacing for a marathon and running twice as far as me in 90-degree heat:  I was leaving them in the
dust
.
I don't wear a watch and after maybe 4 miles asked a volunteer how much farther to the exchange with Leg 3. She said about a mile and a half. No problem, I thought, and soldiered on. And on. And on. I finally asked another volunteer how much farther, and she said, "Oh, about a mile and a half." Maybe I should wear a watch.
I got on my bike on Monday for a 30-mile ride (and
weight workout
, which in retrospect was perhaps overdoing it). Riding the last miles home through a thunderstorm and driving rain, I felt tired. Bone tired. I got myself up the Seward Park Ave. hill on some reserve of will. And spent the rest of the day eating, beginning with my children's leftover cereal from that morning.
I've been feeling pretty tired after rides. I know how to recover after a run: I know what to expect and what it takes out of me. But these rides, even a short, 30-mile (I love that 30 miles is now "short") ride, leave me feeling wasted. Exhausted. I haven't been this tired since I was pregnant. My
coaching practice
is neglected, my house is a mess, my children are raising themselves, my partner is shaking his head. I'm too tired to deal.
I need to figure out recovery. (And I take any advice in the comments below very seriously, so thank you in advance.)
And in the meantime, I've got a 76-mile ride on Sunday.
I'm going to practice looking forward to it, rather than being scared of it. I'm getting myself properly equipped with compression shorts and white tops (thank you, Lamar, for that tip). I'm not going to feel guilty about taking a couple of days off, not going to feel guilty about not taking
the dog
for a run.
How's this sound: "
I'm so looking forward to Sunday's ride – we'll be riding through some beautiful country and I'm curious what 76 miles feels like on fresh legs.
"
I almost buy it.
Week #7 of CTS Training: 76 Miles, 3500′ Elevation
Despite all my angst and trepidation, last week's ride was my favorite so far. I'm sure there's a life lesson there.
We set out under gray skies with much debate over whether to wear raincoats. The route was mostly rural, rolling through small towns, farmlands and some woodsy bits. There were long stretches with no traffic at all, since most people are indoors drinking coffee and reading the paper on a cool, gray Sunday morning and not biking for 7 hours.
We rode south and east from Bellevue on roads I'd never been on, past Cougar and Squak Mountains, and south to towns I've never heard of, like Ravensdale (wasn't that a city in
Lord of the Rings
?) and Kanaskat (are we in Alaska?), north to Black Diamond, west to Renton, and more north back to Bellevue. I love how these rides show me hidden, secret bike routes near neighborhoods where I've lived for the past 20 years.
I greeted the Green River Gorge like an old friend. I biked there for the first time a couple of months ago, surprised then that I hadn't known such a spectacular place was so nearby. I figured if I'd made it home from there early on in this bike training thing, I could make it home this time. Half the group made an unofficial stop for a team picture, oohing and ahhing at the view.
I've started thinking about Green #4 as my team, finally getting to know names and stories. That I can be social and ride my bike at the same time is the best sign yet of my level of biking fitness. I think I may be emerging from survival mode if I can start cracking jokes.
To my great delight, we missed a turn somewhere along the way and shaved 3 miles and 300 feet elevation from our ride. "If I can't finish the STP, I'm blaming this ride," I told our cheerful ride leader. We agreed an unscheduled coffee stop at the Black Diamond bakery was called for.
My mood drifts radically during a long ride, anywhere at any given time between tired despair and contented euphoria. The first half of the ride was a fairly steady uphill, and I found myself wondering whether I was having fun. I tried to eat and drink a lot. And then we passed the quarter-of-the-way mark and then the half-way mark and I found myself sweeping along, wishing the ride wouldn't end (despite the next paragraph). That's the feeling that will keep me coming back as a bike rider.
About halfway through the ride, my back started tweaking. It hadn't bothered me on any previous rides, but I may have overdone it in the garden the day before. Part of my learning curve is that a full day of gardening before a long ride does not count as a rest day. Probably not a good sign when effort on a hill causes an involuntary moan. I was worried my back would spasm out in the middle of nowhere, and that I would have to call my partner for a ride, curled up like a cockroach on the side of the highway, but I got home safe and sound with a couple of donated ibuprofen and felt much better with a beer.
Like a meta-mood, my anticipation of upcoming rides drifts radically from week to week. It's interesting to have it documented here, so I can remember how confident or scared I was on any given week.
This week I've been thinking about childbirth. (Hang in here with me.)
At the beginning of each of my two pregnancies, I was terrified of childbirth. I mean, it hurts like hell and women die doing it. But by the end of each pregnancy, I felt calm and strong, a "bring it on" anticipation of labor and natural childbirth. Something mother lion about it.
I feel that way about this week's upcoming 82-mile, 4,000-foot elevation ride. I know it will be hard. Bring it on.
Too bad I don't get a cute baby at the end of it.
Week #8 of CTS Training: 82 Miles, 3,500' Elevation
On the ride home from Sultan, I thought to myself: I would happily do this ride every week.
Who knew there were such pretty country roads through the Snohomish River valley out near Sultan. We always just whiz by in our car on Highway 2 on our way to the mountains; I'd never gotten off the highway and explored the rural valley with its carefully kempt farms and fields.
What a beautiful place to ride a bike. (Too bad I was too tired to take any pictures.)
We gathered at Magnuson Park (where I was married many years ago at the top of a windy hill, just so you know), headed north up Sand Point Way, said goodbye to the lake and headed due east to Woodinville, and then north to Snohomish, east past Monroe to Sultan, and then westward back to Seattle. By the end of the ride, I was very glad to see the sparkle of Lake Washington again and to know we were almost home.
With four Ibuprofen in me, I felt good for all but the last 10 miles, where I was kind of trudging. At a quick stop somewhere mid-ride, our ride leader David singled me out: "How are you doing, Kathryn?"
"Kicking ass," I responded. (What, do I look like a weak link? I'll show you weak link!)
Just before our first big hill, David told us to regroup at the stoplight at the top. Pushing up the hill, I saw a stoplight just ahead and felt quite smug about how handily I had conquered the hill. "Careful," said a more experienced rider as I was starting to pass. "The hill keeps going up to the right."
It sure did.
Oddly, I feel stronger and faster on the uphill than the downhill. I'm such a cautious wimp going downhill, both hands gripping the brakes for dear life, everybody swooping past me. Somewhere later in the ride, we rode down a very, very steep hill with a blind curve to the right. There was something creepy about the hill. Ominous. When I got to the bottom, one of the riders behind me told me that a friend of his lost control on that hill last year and ran into an oncoming car. She lived. I've been thinking about her ever since, wondering if she had a creepy feeling before she fell.
Creepy hill aside, for the first time I can see my way to 100 miles; I could have done another 20 if I'd had to. I've figured out how to keep nourished (homemade superpower hummus, homegrown hardboiled eggs, salted potatoes, and various sweet things) and hydrated. I've figured out what to wear (and I don't care that nobody else is wearing a skirt). Biggest problem at the moment is that I still haven't figured out how to keep my hair from sticking out goofily from the sides of my helmet.
Perhaps more importantly than feeling good during the ride was that I felt good the next day. My legs were tired – I wasn't tempted to go for a run or anything – but I didn't feel sick tired like I have for days after previous rides. I was running and biking again on Tuesday, which is a day earlier than last week, so this whole training thing might be working.
Coming up: 92 miles and up the 196th hill. When bikers ask me where we're going this weekend and I say something about "196," they all nod knowingly.
Oh dear.
Week #9 of CTS Training: 92 Miles, 4700' Elevation
Should I start with the bear cub or the attack dogs or the puking? Lots of stories happen over 92 miles.
Before we set out into the sunny morning, our ride leader cautioned us to watch out for wildlife: deer, for example, or "a sick raccoon out in the daytime." As he was talking, a bunny hopped behind him on the stairs of the old Renton City Hall.
Our ride leader didn't say anything about bears.
Cruising downhill after a much-appreciated coffee stop at the Black Diamond Bakery, somebody ahead shouted "Bear!" No way, I thought. I haven't seen a bear in any of my years of hiking in the North Cascades, no way am I going to see one while biking in South King County.
Wait a sec — what is that big, black thing bounding on the road toward us?
We all veered into the middle of the road, leery of a mama bear roaring out of the bushes next to us. The bear cub disappeared into the green as I fumbled out my camera and took a picture of, well, bushes. I couldn't believe we saw a bear; I haven't been that excited since
cheetahs in Africa
.
During his wildlife talk before the ride, our ride leader described the route as "epic" and spoke almost lovingly of the 196
th
St. hill as a "signature hill," whatever that is. "Is that the 196
th 
hill?" I asked as we pulled up at an intersection over the Maple Valley Highway.
"Get ready," someone said, or should have as I was too busy taking pictures to take off my long sleeve shirt.
We crossed the intersection and started climbing. A big dog barked at us across the street and I was glad there was a fence — except there wasn't a fence and a bull mastiff came running out onto the street, making all kinds of noise. That got two little white moppy dogs all excited on our side and they charged at us, barking and snarling. One of them came very close to my ankle with that "I'm going to bite you" look in its eye; I had a tough time figuring how I was going to unclip, kick the dog, and continue to push up the hill. Fortunately the dog retreated because I might have killed it.
The dog encounter got all kinds of adrenaline going and I set too fast a pace for myself, or I overheated in my long sleeve shirt, or I just never found my groove on that climb. About halfway up I was overcome with the temptation to stop and take a picture: I'm sure I did it for art and not for a breath.
About three-quarters of the way up I realized I was going to puke.
"Please don't puke in front of all these people," I thought to myself as I pulled up to the waiting group at the top of the hill. "Please, please don't puke."
I had to get off my bike and lean between my legs, a memory of mountain biking friends (guys, funnily enough) placing bets years ago on whether I was going to puke or just dry heave drifting through my mind. Fortunately, I managed not to throw up my breakfast and soon felt great.
It was, indeed, an epic ride. We rode east through Renton, south to Covington and Black Diamond, north toward Cougar Mountain and Issaquah, west through Bellevue and around Mercer Island, and then south past Seward Park (past my house!) back to Renton.
I hadn't been looking forward to the route since it covered so much familiar territory, but I found there is something reassuring about travelling familiar roads toward the end of a long ride: there is nothing daunting about riding around Mercer Island to Seward Park where I live – I often do that ride (or should!). As much as I am enjoying exploring new roads, I find it's the unknown that can be mentally daunting.
We climbed the I-90 bridge and up the very, very steep S. Irving St.  hill to Lake Washington Blvd. I had a moment of panic on the Irving St. hill, which I've biked many times as a commuter but never after 80-some miles. I wasn't quite sure I had enough power in my spent legs to power up those steep 50 feet and almost came to a standstill. I managed not to fall backwards down the hill, but it was intellectually interesting to be scraping the bottom of the barrel.
By the end of the ride, my feet were bothering me the most. "Hey Samuel," I called to an experienced biker in our group. "My feet are asleep — I'm not stroking out, am I?"
"Can you wiggle your toes?" he asked. We decided I was fine.
Next up is the Flying Wheels ride. I've decided on the 65-mile loop. How is it that 65 miles now seems easy?
Week #10 of CTS Training: Flying Wheels' 65-Mile Loop
I may have errored when I wrote last week that the prospect of 65 miles seemed "easy."
"Extreme" would be more like it.
I rode the 65-mile loop of the Flying Wheels with friends whom I had just met that morning. One was a newer rider and the other two were very experienced riders – the kind of riders who circled back down the Stillwater Hill to check on us and then rode back up again, the bike riding equivalent of hiking with an exuberant and kindly dog.
I met up with these friends of friends ("My helmet is kind of maroon; what color's yours?") at the Start line at Marymoor Park and we headed south along the E. Lake Sammamish Parkway, then east to Carnation, north to Duvall, back to Carnation, south to Fall City, and home to the Finish line via the E. Lake Sammamish Parkway again.
A friend of mine had cautioned me about the Stillwater Hill in Carnation: "It's a sharp right and a very steep climb," he said. "People often don't shift in time and I've seen a lot of crashes there."
Of course, his warning fell out of my head until I was suddenly looking up the hill and at a rider just in front of me, stopped. No "Slowing!" or "Stopping!" warning. I swerved to miss her and started climbing.
And climbing. Three miles of steep hill. I've learned that steep is fine, and long is fine, but the two attributes combined is pretty extreme. I looked at the riders in tennis shoes trudging along the side of the road and wondered what they were thinking about. This was no casual Saturday ride in the park.
Since we were "only" riding 65 miles I didn't have to manage any early-ride despair: that feeling of overwhelming discouragement at the beginning of rides when I think about how many hours and miles are ahead of me; those tired moments before I catch myself and focus on what I appreciate instead.
Since we were "only" going 65 miles, a distance I now know is entirely manageable, I felt ridiculously happy the whole ride – happy with the early summer weather; happy with my new friends; happy with the beautiful country around me; happy with moving my bike through the miles.
One of the experienced riders I was with gave me one of my favorite cycling tips to date: "Take off your shoes at rest breaks on long rides," he advised. "Particularly on hot days. Your feet bake, locked in those shoes all day." So obvious, but it hadn't occurred to me that you could do that.
Heaven, I thought, as I stretched out my toes.
I saw my CTS Green #4 ride leader David and some my cohort at the Duvall rest stop and felt like a wuss since they were doing the 100-mile loop. "How come you get to ride with David?" I asked one of my Green #4 friends. "How do I get connected like that?" I gave David some of my superpower hummus; maybe that will help my connections.
The Flying Wheels was the first time since the Chilly Hilly that I've ridden with non-CTS riders. I gained an even more effusive appreciation for the training, the culture of safety, and the ride leaders and sweeps and floats that accompany our CTS rides. Lots of people out there don't point out hazards or say "Passing on the left," or "Car back!"
I do, now.
That said, not riding with my CTS Green #4 group felt a little bit like I was let out of school. I could speed up ("Let's go, Larry, for crying out loud!"), or stop and take pictures, or slowly grind up a hill without worrying about getting left behind or embarrassed — heaven forbid! — for being the last one to regroup.
I felt a little bit like a stalker, though, when I'd tuck in behind a stranger – a bike length away but still – and follow them for awhile. I told one guy in a snazzy biking outfit that I was "On your wheel!" – he promptly dropped me on a hill. On the last long stretch along the E. Lake Sammamish Parkway I identified a stronger woman rider who was riding a little faster than I wanted to into the wind. I followed that poor woman for miles.
I've realized that I've changed my goal for the STP. No longer does the ride seem impossible: I can clearly see my way to 100 miles (a second day of it is still a bit fuzzy). My new goal is to play, to wring every moment of fun out of this ride with my big brothers — and 10,000 other people!
Coming up: 88 miles to Enumclaw on Saturday and then a 45-mile Cascade Free Daily Ride on Sunday – the first time I've done back-to-back rides.
Week #11 of CTS Training: 88 Miles, 3020' Elevation
I was hanging on to this ride by my fingernails.
Funny how some rides can be easy and fast and smooth as butter, and some are a slow, leaden slog. This ride fell into the leaden slog category.
I kept checking the tires to make sure they weren't flat or rubbing. No, it was just me.
Something was definitely off. At the beautiful Nolte State Park rest stop at 45 miles, very well warmed up with most of the 3,000 feet of climbing behind us, I saw I had goose bumps on my arms.
It wasn't cold out.
I expect I was dehydrated (I drank about four bottles over the course of the ride), but I was reassured that I was processing liquid at most of the rest stops.
"Darn," I said to William, who is always good for a sardonic comment. "I should have peed at the last rest stop rather than prioritizing coffee."
"Just go in your shorts," he replied. "Hang on — on second thought, please don't: I see you don't have fenders on." I told him he wasn't allowed to make me laugh that hard; I almost fell off my bike.
Puerile humor aside, I barely made it through the ride. "How many miles are we at?" I asked someone with a bike computer. "87.7 miles," he replied. I wasn't sure I was going to make that last three/tenths of a mile.
All of which was a shame, because it was a gorgeous ride. We started in Kent, headed northeast toward Tiger Mountain, south to Enumclaw, and then looped west to Sumner and north back to Kent. I had a constant sense of déjà vu, recognizing curves in the road and odd houses from past rides but not able to put them in any larger context of where on earth we were.
There was a stretch around Enumclaw that was breathtaking with big, beautiful views of Mt. Rainier across pastures and fields. I waved to an old man walking in his garden and he smiled and waved back. All the
town/gown conflict
during and after the Flying Wheels ride had left a bad taste in my mouth; connecting, for just a moment, with someone in his front yard as I rode by felt human and kind.
Mostly, though, I just stumbled from rest stop to rest stop. "Eighteen miles, I can do 18 miles," I'd reassure myself. "Okay, 14 miles left, I can do that, it's less than an hour." I was breathing harder than seemed right for the effort and sweating way more than I ever have on a ride. When I tasted sweat that trickled into my mouth, it tasted sweet and I worried about that. I read somewhere that that's a symptom of something terrible. More likely, I was tasting some of my Nuun energy drink that I take a shower in every time I try to drink from my snazzy new Camelbak "Chill" water bottle.
My plan is to ride 36 miles slow and steady with a Cascade Free Daily Ride meetup tomorrow – my first back-to-back ride. Which feels like a big deal: a month ago, I'd feel sick tired for days after a long ride; last week I ran the Furry 5K the next day.
I guess training works, despite a rough day.
Week #12 of CTS Training: 99 Miles, 2880' Elevation
"How far did you ride today?" my friend asked.
"A hundred miles, but it was flat," I said, rounding up slightly. "It was easy."
She thought I was being self deprecating. "You don't have to say that," she chided me.
"Don't get me wrong, I can totally brag that I rode my first century," I assured her. "But, really, it was flat. It's easy if it's flat."
We rode from Magnuson to Flaming Geyser State Park in Auburn, a park I've always meant to visit; I had expectations of something Cretacean and volcanic, but apparently it's more like a zippo lighter. The flame even blows out every once in a while and they have to relight it.
In any case, we didn't bike down to the living flame. Too busy eating and peeing and stretching with 50 miles to go.
The first 10 miles of the ride was an exercise in avoiding the Solstice Parade and the Rock and Roll marathon. We rode down the Burke Gilman trail to the UW and had a rather endless rest at the Montlake bridge as a tug went through. Then up Capitol Hill via Interlaken Boulevard, our only real climb all ride.
Weird, that hill used to be huge.
Then south past the old Amazon building on Beacon Hill ("I've spend some stressful hours in there," I remarked to a rider friend as we rode by) and then a spaghetti of hidden and secret trails and roads down past SoDo.
On a forgotten road down the hill below the Amazon building, sunlight and shadow flickering on my sunglasses, I never saw a bump in the road. My bike flew in the air, I flew off my saddle, and for an incredulous moment I was airborne.
"Bump," I called back weakly as I reconnected with the pavement, somehow still on two wheels. "Got it," said Joe, right behind me. He didn't have time to avoid the bump but at least he was prepared after watching my acrobatics.
After such a
rough ride
last week, I drank water aggressively during the entire 100 miles. I tried setting an alarm so I'd know to finish a bottle ever hour, but it was too annoying listening to my 7-year-old sing-songing "You're a butt" as my alarm sound and not being able to turn it off until the next stop light. In any case, I lost count at about bottle number seven and was heartily sick of Nuun lemon lime by the end of the ride, so I think I hydrated properly.
"How fast are we going?" I asked someone with a bike computer as we were cruising down the Kent valley (I think).
"17.7," he replied. Amazing how easy it is when it's flat. With a tail wind.
The day kind of spun out, the miles and hours blurring together. My back has been alarmingly tweaky but it seems to like biking on flats, and felt better and better the longer I rode (or maybe it was the Ibuprofen). My feet are troubling me the most: searing hot and pins and needles and crampy. I might need to figure out my feet.
"Have you noticed changes in your body since we started CTS?" I asked a riding friend who probably wouldn't appreciate being identified here.
"Oh yes!" he exclaimed. "But my pants are fitting weird: they're now big in the waist, but tighter in the butt and thighs."
"Just what I wanted," I agreed. "More butt and bigger thighs." After the STP I'll go back to my intentional
gluten-free diet
, but for now I'm just too hungry (she writes, as she takes another bite of pizza).
"Mama, why do I have to go to math camp?" my 7-year-old asked me this morning.
"I think you have more fun when you feel prepared and confident," I told her. "I want you to have fun when you start second grade in your new school."
"Kind of like your big ride, right?" she said. I looked at her, astounded at the connection she had made.
"Yes, exactly like my big ride," I replied.
"When is the big day again?" my 9-year-old asked. "You've been training for like six months."
Well, three months actually. And now we just have a couple of weeks of tapering left to do. This crazy crescendo of mileage is done. We did it. A mere 60 miles on Sunday and one final ride around the lake the following week.
Friends ask, "So what's next after the STP?"
I don't know: maybe ride CTS in the blue group (16-18 miles an hour) next year? Maybe ride STP in one day? I would like to crush the men who left me behind when I rode
too far too fast
way back in February.
In the meantime, I'll sign up for any ride our ride leader David posts and hopefully much of our Green 4 crew will show up. And, as usual, we'll good-naturedly follow that yellow jersey and those ridiculous red legs up and over the hills and rolling miles, just like we have for the last three months.
Week #13 of CTS Training: Week #13: 60.6 miles 2,510′ Elevation, 95.1 Degree Heat
I thought longingly of my insulated booties, fantasizing about cold, rain-dripping feet as we pedalled through the 95-degree heat to Everett.
It was hot on Sunday.
"This is like biking in a sauna," I shouted out as we pushed our way up a hot exposed hill, the sun reflecting off the blacktop.
To think I complained about being cold back in February.
I had learned my lesson about staying hydrated and covered up from the sun (looking cute be damned) and, besides the hot foot thing, plugged away at the miles without any real complaints. I know we started in Monroe, entered Everett's city limits, and rode familiar roads in Snohomish, but all I really remember about the ride is enduring it. I'm sure it was pretty.
"Where's your smile, Kathryn?" a friend asked.
Too hot to smile.
With an hour's drive to the start of the ride, I had one of those ridiculous mornings where I somehow lost a half hour getting ready. Frantically late, I pulled money and a credit card out of my wallet and, as an after thought, added my drivers license. After all, I thought to myself, I have my wrist ID, but what the hell. A mile from my house, I realized I forgot socks and had to turn around.
Focused on finding Monroe before 9 a.m., I never even noticed the state trooper on SR522 clocking my speed 12 miles above the speed limit.
"You didn't even slow down when you passed me," he scolded as he took my license, registration, and the proof of insurance that my blessed husband remembered to put in our new (to us) car.
I probably wouldn't have gotten off with just a warning if all I'd had for ID was my CTS wrist band.
"That was you?" my Green 4 cohort laughed when I arrived just in time, stressed and breathless, full of my police story.
We lunched someplace called Machias Station at 38.2 miles. There was coffee half a mile down the road, but I was too hot to go find it, which is saying a lot. "Ready to roll," Paul our ride leader called out. 
"Wait!" someone shouted, pointing at Samuel, fresh into a giant ice cream cone.
"That's okay, I've got it," he said, ice cream in hand, as we started the long climb out of Snohomish. That had us giggling.
When we rolled out from the start in Monroe, I found myself hoping my morning's misadventure with the police wasn't a sign that I should skip the ride. I'm not particularly superstitious, but I did wonder whether a guardian angel was desperately changing variables – missing socks, chatty state troopers – to avert disaster for me.
My unease with biking's dangers has intensified during CTS as I witness the near misses and human mistakes of bikers and drivers both.  "
Remember the bump
," I repeated to myself as we sailed downhill through dark shadow and blinding sunshine, an admonishment from a kind reader in response to nearly falling off my bike last ride.
"Remember the bump."
My unease has entered my subconscious: I had a dream that I looked at my feet just as Green 4 was ready to roll after a rest stop in the middle of nowhere and realized I'd forgotten to put my bike shoes back on. I futily searched for them as my group rode away without me. At least I had my phone in my dream, a reassuring detail that my subconscious thought to add.
As I spend more and more time riding, I'm no clearer on how to reconcile loving to ride (defensively, carefully) with the obvious and mortal danger of my children losing their mother.
For now, as I ride as S.M.A.R.T. as I am able, I'll trust that my guardian angel will continue to lose my socks.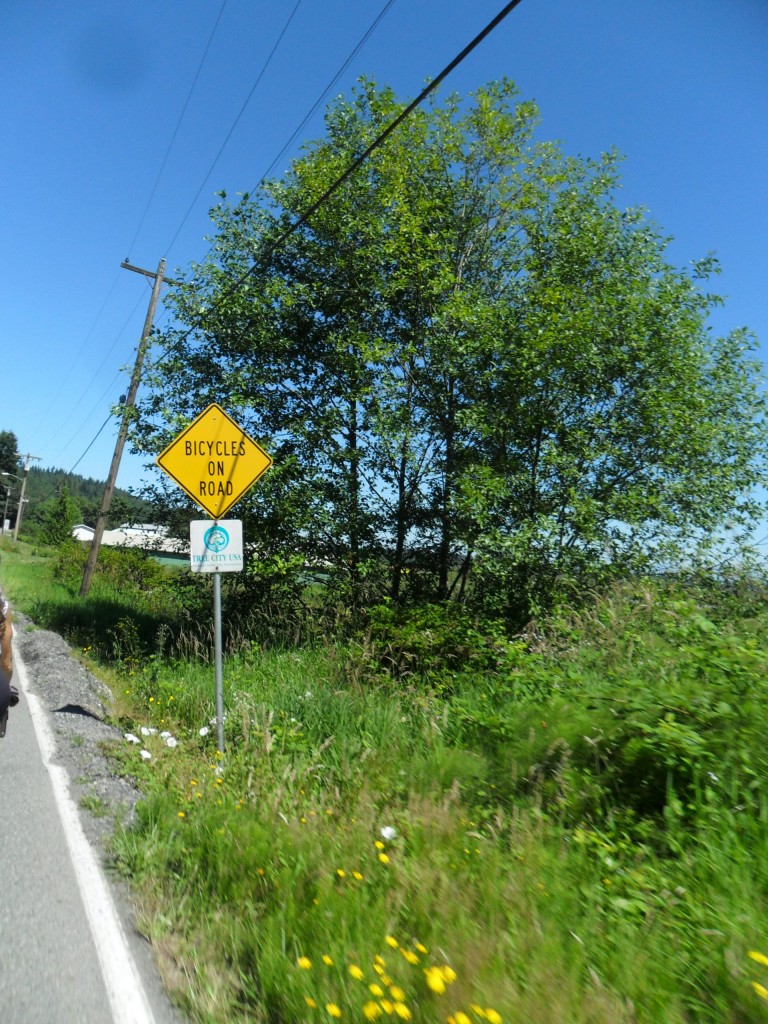 Week #14 of CTS Training: Skipped It to Go Camping
I don't think "tapering" means "do nothing."
Poor Beautiful Blue gathered dust at home as we headed to the mountains for the July 4th holiday, missing the last CTS victory lap around Lake Washington.
I thought about biking the whole time. Every stretch of open, rolling road had me thinking, "Ohhh, that'd be fun on a bike!"
I wrote back in February about imagining the impossible, about the impossible distance of riding 200 miles in two days. As I think about the STP coming up this weekend, it no longer feels impossible; it feels fun.
I'm more stressed getting the house picked up for my big brother's arrival from Vermont – he's riding with me – than by the prospect of this epic ride.
Someone asked me whether I'd recommend CTS. My answer was "Absolutely, without reservation." 
I expect I would have quit or crashed miles and miles ago if it weren't for the CTS training. I don't think I would have gotten past 30 miles on my own even with the best of intentions.
Way out in the Okanogans, we passed two bikers on a lovely, hot stretch of road.
"Of course he's not going to let us pass," my husband fumed next to me, pointing at the rear rider taking the lane in front of us.
I pointed out that we were climbing a hill on a blind curve with no shoulder. "He's protecting his partner," I explained, feeling like I did when I lived in Germany and corrected a native German speaker's grammar: surprised and pleased to find myself expert.
I felt very protective of those two riders and gave them plenty of space. "Nice ride!" I called out, but I think they might have thought I was yelling at them. Nice bicycle couple, if you're reading this, please know it was a very friendly minivan passing you somewhere northwest of Omak.
I would not have understood the rider's strategy without my CTS training. Would not have appreciated what an experienced, strategic rider he was to see ahead to that blind hill with a laboring minivan behind him.
I aspire to be such a rider.
Please say "Hello!" if you see me, my brother, and Beautiful Blue on the road down to Portland this weekend.
Riding the STP
Crossing the finish line in Portland, past a loving crowd cheering congratulations, I looked up through floating bubbles at the blue sky and shouted in exhilaration and pride and relief.
We don't get moments of joyous intensity like that in our lives very often.
It was worth every minute of those long training rides and the long push through the STP's 200 miles.
On Saturday, we set off from the start about 7 a.m.  
I was ridiculously happy for the first 25 miles, happy to show off my beautiful city to my older brother, an experienced cyclist who had flown in from Vermont to ride with me, happy to be riding familiar roads I had trained on all spring.
What was all that training about, I wondered to myself as we glided along the flats. What was the grueling CTS training on all those hills
for
?
But by lunchtime the reality of another 50 miles had begun to sink in and we lagged too long over our peanut butter and jelly sandwiches in the hot sun. I perked up with the calories, and we flew down some trail through the middle of the state, relieved to escape the traffic for a bit.
"Come on, Dolomite Guy!" I shouted, passing my insanely strong 59-year-old brother, who likes to bike in European mountains.
And then there were road signs for Centralia and we knew we'd gotten somewhere, arriving at our mid-point around 3 p.m. We stayed in private housing organized through the Centralia Chamber of Commerce and fumbled around on our bikes, tired and stupid from our ride, trying to find the address.
A MillerLite never tasted so good. We were full of talk about doing the ride in one day in 2014. I tried to stay up until 9 to be a good guest for our kind hosts, who had opened their house – and their kitchen! – to us, but I disappeared around 8 p.m.
"I'm just going to stretch out for a minute," I said. "But I might be in my pajamas, and I might brush my teeth first…"
Everyone talks about how hard it is to get back on the bike the second day, but I didn't see what the big deal is. It felt very  reasonable to be back on Beautiful Blue in the pink dawn, rolling through rural southwestern Washington.  I think I got uncannily lucky with my seat.
Everyone else also talks about how the STP is a flat ride. Now
that
is a load of crap. Lots of rolling to serious hills on Sunday.  My brother and I decided there was no way we were ever going to want to do the STP in one day, short of a national emergency.
I started petering out a bit in the afternoon and stayed tucked in behind my brother. Every so often I would have to call out, "Hey Dolomite Guy, slow it down a bit. Your little sister is getting tired!"
Crossing the Columbia into Oregon was a thrill. Like the rest of the ride, the logistics were carefully orchestrated and we rode in bunches of 500 riders, owning the bridge high above the ships and docks and water.  I laughed out loud as we passed the Oregon flag welcoming us into the state – now we were getting somewhere.
The heat and the wind started cranking up in the second half of the day and the ride got long and endless along the highway into Portland. Neither my brother nor I were using a bike computer and we ticked the miles off from the highway signs:
Portland 43 miles
– "That's like a Sunday ride," my brother said. "Piece of cake," I agreed.
Portland 26 miles
– "That's just a marathon," I said. "Easy bike ride."
Portland 13 miles
– "Okay, I could run the rest of the way," I said, thinking what a hurting puppy I'd be if I actually had to start running.
And then, suddenly, through the trees, I caught a glimpse of Portland's tall buildings and knew we'd made it. We wound through Portland's outskirts, endlessly stopped by red lights and then, finally, there were the bubbles, the cheering people, and that blessed finish line.
I did a mighty thing, biking myself down to Portland last weekend. More mighty, though, was the journey from that first rainy 12-mile ride back in February – that first, tentative step into the impossible.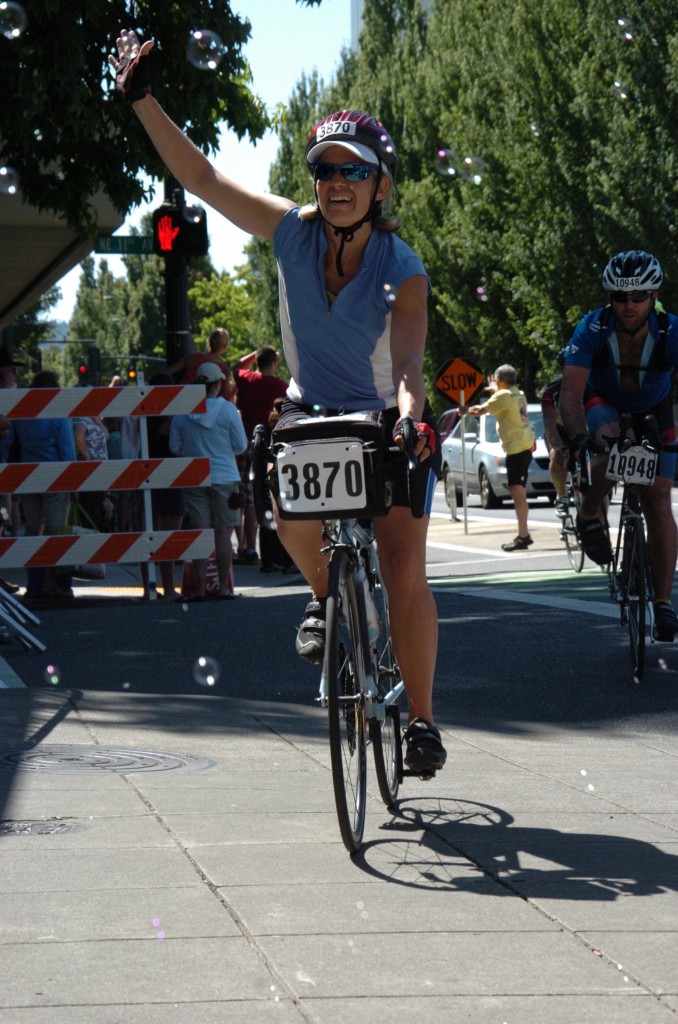 Kathryn is a personal and professional coach in Seattle. When not learning how to bike long distances, she likes to run in the mountains, share adventures with her 7- and 9-year-old children, and cook terrible dinners for her beloved and long-suffering partner.