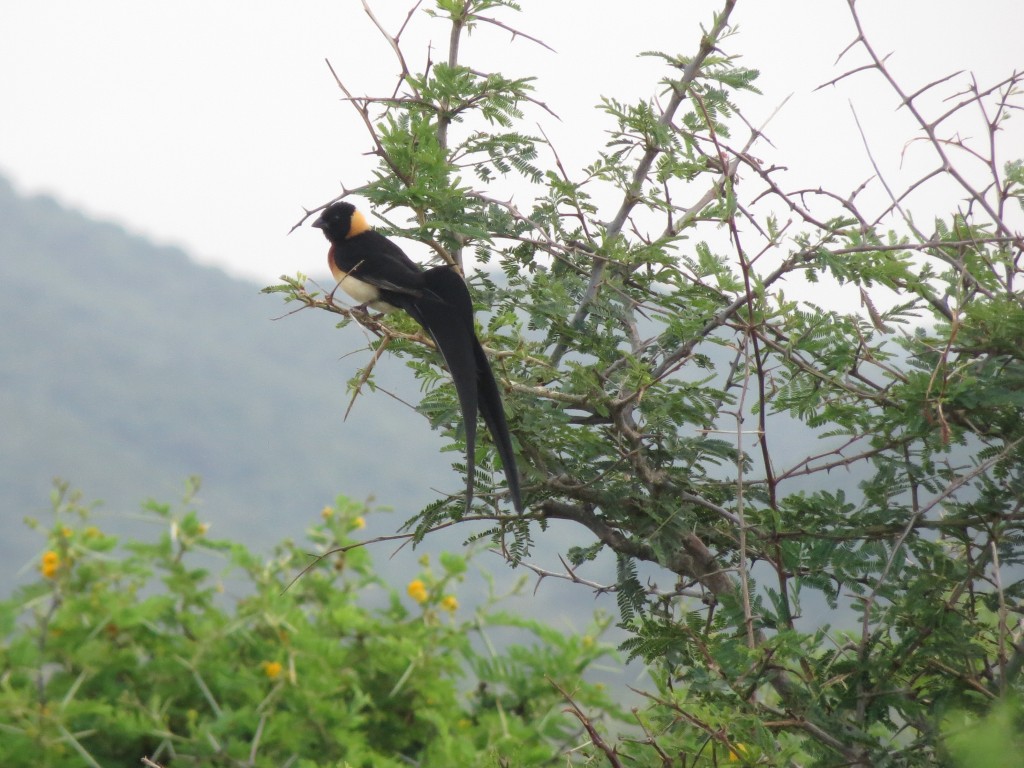 When friends ask me about our trip to South Africa, I think about being hunted by wild dogs.
I think about throwing a frisbee with a girl in Swaziland. And walking in the bush with cheetah cubs.
This is the story of our family's travels in Africa, a place we'd never really imagined going. It's a story that started by accident several years ago at a school fundraising auction where I was mildly intoxicated and overly competitive and bid, to my partner's astonishment, on a 6-night South African safari. It was such a good deal when the bidding started.
I may have gotten a bit carried away.
It was only when we got home that we wondered whether the trip included airfare or even whether it included our kids.
It didn't.
"Mommy, why did you take us here?" 7-year-old Z plaintively asked in a moment of tired homesickness early in the trip. This travelogue is my attempt to answer that question.
Saturday, December 15: And We're Off
Sunday, December 16: The Moisturizer Mistake
Monday, December 17: The First Ostrich Fillet
Tuesday, December 18: Driving as a Brain Teaser
Wednesday, December 19: Springboks, Giraffes, and Monkeys
Thursday, December 20: Cheetahs and Wild Dogs
Friday, December 21: Birds of Prey
Saturday, December 22: The Afrikaaner and the Praying Mantis
Sunday, December 23: Chimps and Rough Roads
Monday, December 24: Malolotja Canopy Tour
Tuesday, December 25: Books, Frisbees and Chocolate
Wednesday, December 26: The First Game Drive

Saturday, December 15
And We're Off
"Kids! Let's go to Africa today!" I've been waiting to say that for months and today, incredibly, it's true.
Grandpa arrived to drive us to the airport and our 30 hours of travel to the other side of the world has started. I started hyperventilating trying to get the house ready for our housesitters, a fine tuning of my neurotic need to have the house clean for visitors. I left a note for the lovely woman from Florida who's staying in our guest room while her first grandbaby arrives: I hope my home is a sanctuary for you. I leave it with you with love. I hope she meditates in my garden.
The kids were plugged into the back-of-the-chair TVs before we'd even taken off. I hope being allowed to watch uninterrupted hours of TV isn't the highlight of the trip for them.
I'd been planning this trip for months, fitting our flight to Johannesburg and our 6-night safari in KwaZulu Natal together with accommodations for three weeks. I have it organized in a 3-ring binder, tabbed by date with addresses, GPS coordinates, phone numbers, maps; this is one project-managed trip.
We settle in as the flight takes off and quickly realize that flying Lufthansa internationally is a bit different from the domestic cattle car flying we're used to. M and I giggle over the hot, scented towelettes, the delicious dinner, the free beer and wine, the free refills on beer and wine, the free cognac and Bailey's.
I regretably turned down the Bailey's — too nonplussed to say yes — and the German flight attendant mocked me, prissily saying in his German accent: "Oh, better not." He had me pegged as a health nutty American.

Sunday, December 16
The Moisturizer Mistake
We arrived in Frankfurt at 10 a.m. local time, 2 a.m. Seattle time, with 50 minutes to catch the hotel shuttle for our 12-hour layover. G was horribly airsick in the customs line. The kids looked wrecked with bloodshot eyes, shuffling along under their daypacks. I am a terrible mother, my kids should be asleep in their own beds right now.
The kindness of strangers strikes when a woman urged us ahead of her in the long line; and we made our shuttle after a mad dash through the confusion of the Frankfurt airport. In our rush, I forgot to turn and wave thank you to the nice woman. Thank you, nice woman, whoever you are!
The houses we pass on the quick shuttle ride to our hotel look so German, clean and organized, just like the German village I lived in during college. People are out for Sunday morning strolls across the winter fields. I wish I were taking my kids around Europe, where it feels safe and familiar and comfortable. The prospect of Africa feels very scary in this tired, down moment.
Within minutes we're checked in and tucked into bed for the day at the very adequate Mercure Airport Hotel. M has done very little to organize this trip but has contributed a couple of gems: staying in a day room at a hotel — rather than dragging the kids sightseeing around Frankfurt like I had initially planned — was a particularly good contribution.
I wake up many hours later and leave my family asleep to go investigate the work out room and pool area. I may be the only person who has used that small, airless room and feel virtuous doing sweaty intervals on the elliptical. The kids eventually wake up and have a swim in the cold, featureless pool; it has a picture of a mountain lake on the concrete wall to brighten things up. Z starts tallying in her journal the number of pools she swims in on this trip.
In the shower, I realize to my horror that my two little Cetaphil travel bottles are both cleanser and I don't have any moisturizer in my carry-on bag. At the airport, I make the family wait while I shop at the Duty Free Shop, where I screw up the Euro conversion rate and end up spending more than $30 on moisturizer. Which I can't even use since it's 8.4 oz and too big. Luckily, I also splurged on a small and hideously expensive jar of night cream — whatever that is — and soon realize I have made a wonderful mistake: Smoothing the cream on my face and hands is like taking a bath on the airplane. Which I do about every 10 minutes on that last, long flight. The best $30 I have ever spent in my life. I'm never flying again without Aloe Soothing Night Cream.
Hopefully the first of many happy mistakes on this trip.

Monday, December 17
The First Ostrich Fillet
I had my first thrilled feeling, that joyous soaring happy adventurous feeling when I take off my eye mask and see African morning sun on the walls of the airplane cabin. G and I walk around the cabin and peer out the window at the sunny, brown land far below. I can't wait to see Africa. I'm beside myself with excitement.
The 11-hour flight to Johannesburg was so bad it was funny. The kids lay between me and M, and kicked and complained all night.
I'm not even impressed by hot towlettes anymore. I haven't felt this tired since I had a newborn. But the sunshine on the cabin wall changes all that. The bright cheer of it fills me with optimism and energy. I can take this on.
We finally land at 10 a.m. local time at the Johannesburg O.R. Tambo International Airport, a big, modern airport that is newer and cleaner than Sea-Tac. We talk and laugh with the customs guy with the sniffer dog who finds all kinds of kid snacks stuffed in our carry-ons. The immigration official at passport control hums The Star Spangled Banner as she stamps our passports, and we walk into the busy, happy, craziness of the Arrivals hall.
Back in Seattle, before our trip, we'd agreed on a code word that means "Everybody be quiet/listen to Mommy and Daddy/be serious/stop what you're doing/stop being annoying." The kids, being 7 and 9, decide the code word is "Toilet." (Astonishingly, they didn't choose Penis or Fart.) We have our first Toilet Time as I try to figure out how to use my cell phone to call our hotel for pick up. It takes some trial and error with country codes and local codes and random 0s but I eventually get through and our driver is there in 15 minutes.
Nobody approaches us or robs us or rapes us as we wait. I've heard such stories.
I've planned a recovery day for our first day in Africa. We're staying at the Aero Lodge 10 minutes from the airport with nothing planned except to sit in the sunshine and swim in the pool. The hotel is perfect: pretty gardens and lawn enclosed behind a big wall (although the pool is cold and a little too murky to be appealing); bunk beds for the kids, a weirdly short and wide bed for us, a deep bathtub (Z starts tallying the number of baths she takes on this trip). There's a pool table in a big thatched porch and a restaurant with dinner at 6:30.
We manage to keep the kids awake all afternoon but then Z pathetically falls asleep on the floor with just half an hour to go before dinner. G has fallen asleep in the bunk bed. Neither kid will wake up.
We decide to do something extraordinary, something we've never done before at home: we decide to leave them asleep while we go have dinner at the hotel restaurant 100 feet away. I pantomime to a group of Afrikaaners enjoying a bottle of wine nearby to come get us if they hear crying from inside the room, and we lock the door and walk away.
Dinner at this little stopover hotel that I happened to find online is astonishingly good. Martin bravely orders grilled ostrich since that's not something you see every day in a Seattle restaurant and I order boerwurst, a typical South African sausage. The ostrich is incredible: tender and flavorful. Gorgeous red meat. We decide we're going to order ostrich every time we see it. (I don't need to order boerwurst again but I think that has more to do with boerwurst than the restaurant.) Dinner comes with sides of squash that would be proud at any Thanksgiving table and a delicate creamed spinach. I bliss out over a beer.
With full tummies we're so tired we can't see straight and we stumble back to our room. The kids haven't moved. We fall into bed for what we hope is a good, long, night's sleep. The plan is to feel normal in the morning.


Tuesday, December 18
Driving as a Brain Teaser
I planned an easy day for our second day in Africa. All we have to do is pick up our rental car and drive to the far side of Johannesburg where we're staying at the Heia Safari Lodge, a stone's throw from the Cradle of Humankind World Heritage Site.
Sounds easy on paper.
Our night's sleep was ridiculous. Everybody was up and bouncing around at 3 a.m. M and G fell back asleep around 5 when I finally gave up trying to threaten Z to sleep and take her out to look for a cup of coffee. We take along a book on cat's cradle that we gave her for her birthday (the day before our trip).
Z and I huddled together on a lounge chair by the pool in the chilly dawn, watching the sun pink the sky. We watch a bright yellow weaver bird fly into its upside-down basket of a nest. Z tells me there's a ledge inside the nest where the bird lays her eggs. The ledge and the entrance on the bottom makes it harder for snakes to get to the eggs. I love that she's teaching me this. (G insists that he was the one that explained this to us.)
We startle the hotel workers coming in to start their day's work, and they fuss over us being up so early. Finally there's hot coffee for me and cereal and milk for Z.
Z and I start reading through the instructions in the cats cradle book and playing with the string. A traveler from Mozambique comes over and says he used to do cats cradle with the girls in his village. I challenge him to show us a figure but his fingers don't remember. One of the kitchen staff comes over and tries to show us her childhood cats cradle games and we laugh and laugh when she can't remember. "Toys were simple in those days," she says. "Just a piece of string kept us busy." I love the shared theme of our childhoods with Z's childhood; the shared humanity of children all over the world across generations playing with a piece of string.
At 10 a.m. the hotel shuttle drives us to the rental car agency at the airport. There's a bit of a frenzy getting our bags on to a trolley (including the 50-pound suitcase for the orphanage) and there's no way we're going to be allowed to push the trolley ourselves. Men desperately line up to help us; the one who manages to get in front pleads with me about Christmas for his children. What am I going to say to that? He pushes our luggage to the Thrifty counter.
Weeks earlier, I had met with a South Africa tour guide for a consultation on our travel plans. She gave me some very helpful advice including renting a car with an automatic transmission. I promptly shrugged off that advice. Automatics are more expensive to rent and I have some vanity around being competent driving a stick.
I should have listened to her. Driving stick on the wrong side of the road is a constant mind fuck. The shift is on the left. It's like trying to drive using a mirror. All of the muscle memory that allows me to instinctively find each gear is gone. Every time I want to indicate I turn on the wiper blades. The seatbelt crosses the wrong shoulder so I feel vaguely insecure. I am a beginner driver again.
I have three big anxieties at this point. One of these is driving. M and I have divided the responsibilitity for the trip: I am the driver; he is the navigator. That way we don't get into fights over navigation (I have an alarmingly poor sense of direction and we've had some of our worst fights over navigation). I like that the locals probably think he's a pussywhipped American whose woman won't let him drive.
Another anxiety is getting money out of an ATM. We haven't done this yet and I'm worried our debit cards are not going to work or that I'm going to get hassled by scary men if they do. Again, I've heard such stories.
My third anxiety is food. Snacks I've packed from Seattle (that made it through customs) are running perilously low. I need to feed my children.
The very nice guy behind the counter who patiently waits as I read every bit of fine print (renting a car and figuring out car insurance in South Africa and Swaziland was the closest I came to analysis paralysis planning this trip) suggests we use the ATM at the first gas station out of the airport. After practicing circling the rental car parking lot a couple of times, I gingerly take the exit onto the road, repeating under my breathe, "Stay to the left, stay to the left." We safely pull into the gas station/minimart parking lot, gesturing "No thanks" to the many men energetically waving us into the gas station pumps.
Whew — made it this far!
M stays with the kids in the car while I deal with the ATM and snacks. I successfully withdraw R2000 (about $220) and return to the car with a bag of water and cookies and chocolate. All this excitement makes me need to pee. Two anxieties down, one to go. If I can get us across Johannesburg, I can do anything.
We take the long, simple route around the city on big divided highways, rather than Google's labyrinthian route through downtown. It's all very First World. We could be driving on I-5, except for the shanty towns built up against the razor wire fences bordering the highway. An hour later we pull through the gates of the Haia Safari Lodge.
I did it.
I chose this lodge because, according to their web site, zebras drink out of the pool every afternoon. That should give the kids something to think about. Our room is a clean, spacious rondavel with a view across open fields and a lake, with the green sweep of the Cradle of Humankind park rising beyond. There is a big, wide, short bed (what is it with short African beds?) for me and M, and two twin bedrooms tucked within the round walls of the hut. We guess the thatched ceiling must be 30 feet high.
After a simple and unimpressive lunch (how do you screw up hot dogs?), the kids pile into the pool right on time for the zebras' afternoon drink. Five zebras and a foal.
I'd sit on an airplane for 30 hours all over again for the look of astonished consternation on the kids' faces. We get out of the zebras' way. Apparently they kick.
We wander back to our rondavel and M, G, and I fall into bed. Getting Z to take a nap is like coaxing a wild animal to eat out of my hand. She's very suspicious that we're going to make her go to sleep, but it looks so cozy. She's torn, but finally snugs in between us and we all fall asleep for the afternoon.
Jetlag is tough. (Reading this over my shoulder later, Z types: "It was hard for Z.")
I wake up at dusk and go out onto the verandah. A herd of springbok are quietly grazing around our rondavel. One crazy foal runs laps around a nearby rondavel, sprinting for the sheer joy of it, leaping and dancing on its fragile legs over the walkways. It finally slows down and nuzzles its mother. I can just hear her thinking: "Idiot kid." The herd explains the faint and disconcerting smell of muddy urine on the grounds: we're staying in the middle of a wildlife pasture.
Our kids are up by dinnertime, so maybe we're making progress on the jetlag, and we make our way to the restaurant. The staff are loudly celebrating their Christmas party at the restaurant and we're shunted off to a quiet side room for our dinner. We're the only diners in the large room and feel a bit ostracized. But our waiter (a memorably beautiful African man, I must say) checks in on us often, carefully serving us spaghetti in an appallingly sweet red sauce (how can you screw up spaghetti and sauce?). I order a beer and ask him to bring me whatever he drinks. He brings me something called a Castle; it's the only beer he drinks, he says. It's delicious.
The game manager, a friendly Australian named Paul, drops in on us to tell us about a running trail around the property. A famous South African distance runner mapped out a 5K loop; we saw faded signs on our drive in. Paul brings us a map of the running trail and tells us he feeds the giraffes around 6 a.m.; G and I agree on a morning run to watch giraffe breakfast.
The staff's Christmas dinner has turned into a dance party and I peak in on them as we walk back to our rondavel. I don't pretend to have a profound understanding of South African racial politics, but I expect those black and white people dancing together to the exuberant music is part of Mandela's vision of a Rainbow Nation.
We can hear springbok and zebras huffing in the grass as we close our door for the night.


Wednesday, December 19
Springboks, Giraffes, and Monkeys
Our nights have turned into something like this: we all fall asleep hard by 8 p.m. and then M and I are both wide awake and refreshed — like we've had a good nap — around midnight. I've been so deeply asleep I can't believe it's not morning. We take an Ambien and fall back asleep for several more hours. The kids now sleep through the night until about 6.
G and I set out just after dawn for our run.
We follow a path down to a large earthen dam that crosses a murky lake and shout Hallos to fishermen setting up for the day. I expect a woman jogging with her child at dawn is as odd to them as fishing in a dirty lake in the hot sun is to me.
We're running at 5-thousand-feet elevation and I'm glad when G wants to walk back to our rondavel. No giraffes.
Just before breakfast, we hear a shriek from Z: "There's a monkey in my room!"
"No way," M says, and then proceeds to chase a monkey out of our rondavel. It was stealing sugar packets. Just out of reach up a tree and laughing at M, the monkey carefully opened its loot and poured the sugar into its mouth. We checked our cameras and other shiny objects but nothing else was stolen. We closed the windows and went to breakfast.
Breakfast at the Heia Safari Lodge opened G and Z's eyes to the wonders of a buffet. "Can I have more pineapple?" they'd ask. "You can have anything you'd like," I say, throwing maternal responsibility to the winds. "Eat whatever you want." Pineapple in South Africa is awesomely good. They're smaller than ours, and crumbly with juice. Very sweet, they don't acid burn my mouth like the pineapples we get in Seattle. M eats so much pineapple it's embarrassing.
M and the kids head off to a trampoline (nothing could go wrong there) while I return to the rondavel to putter and pack up. Something is in the trees by our front door; looking up, I see an enormous giraffe looking down at me. I come up to about its knees.
Backing up carefully, I run to get the kids and we discover half a dozen more giraffes having a breakfast snack in our neighborhood.
They eventually amble off and I return to my packing.
I have a system for packing that M, my very linear and organized software engineer husband, described as even too anal for him. He would soon eat those words.
The kids' and my clothes are organized in a giant rolling duffel in labeled ziplock bags: "G's shorts"; "Z's socks and underwear"; "K's swim". Three pieces per category, and if it didn't fit in its respective bag, it didn't come. I can find anything in that duffel in seconds. Unfortunately, I ran out of space for M's clothes when I was packing in Seattle and he had to bring his own suitcase, no ziplock bags, many long-sleeved running shirts, and only one (white!) short-sleeved Tshirt for three weeks in 90-degree weather. Poor M.
As I'm vacuum packing each ziplock bag with my knee, I glance out the window. A zebra is ambling by. I love Africa.
Our first destination for the day is Maropeng, the museum at the Cradle of Humankind, a World Heritage Site and "one of the world's most important palaeontological zones," according to Lonely Planet. Mrs. Ples, a 2.5-million-year-old ape man, was discovered in a cave there. The museum should be awesome; one guidebook described it as "magical."
The building entrance is tucked in the side of a grassy hill. "Where's the museum?" G asked. It's already hot and the sun is beating down on the tall grass and wildflowers on the hill. We walk into the hill.
The museum gets off to a great start. The wall of the sloping, curved corridor traces the history of Earth: one step and we're through the Industrial Age, a couple more steps and we're past the pyramids, and then long stretches back through dinosaurs and mass extinctions and other interesting facts that I'm not able to read because Z is unimpressed and tugging on my hand to "Come on!"
At the bottom of the corridor we get on a round floating boat thing. Z is suddenly much more impressed as we tip down a conveyor belt and into a dark stream. She slides into my lap as we approach a tunnel; the sides are icy and covered in frost. I think maybe it is supposed to represent the beginning of time but the metaphor is ambiguous. We then glide through an iceberg room; there's the sound of cracking ice and blue-painted iceberg shapes. There's a fire room, where lava-painted rocks glow ominously. If you're 7 years old, it's a very satisfying ride. We have to do it twice.
We then walk along a catwalk at the center of a turning tube of lights that I think is supposed to represent a black hole. The optical illusion is extraordinary and nauseating: I try to find my equilibrium somewhere off the side of the catwalk. The kids love it and we have to do it repeatedly.
After the black hole, the museum has exhibit diarrhea with topics ranging from cavemen to water to poverty, education, and AIDS to DNA to dinosaur fossils. It's like five different museum directors each had a different vision for the museum and were given free rein (but not enough money) to execute their visions. It's like the Pacific Science Center meets a natural history museum at Wild Waves amusement park. It's disappointing because it could — and should — have been great.
We emerge out into the sunlight through a steel and glass building. I like that transition from grassy hill to modern building. If only its contents were as good. That was the first and last museum on our trip; we are so not museum people.
We get ice cream cones, which G promptly drops on the ground, and head back to the hot car. We're now headed to a bushbabies sanctuary outside of Hartbeespoort, just northwest of Pretoria, about 35 minutes away. We just have to find it.
We proceed to have a massive and alarming technology breakdown. Instead of renting a GPS unit, we're using offline Google maps on our phones and it has worked beautifully so far, showing our location and giving us the ability to zoom in to as much detail as we need. For reasons I don't care to understand but I suspect are M's fault, offline maps suddenly, on the second day of driving, require an Internet connection to open. Which of course we don't have somewhere in the middle of the Cradle of Humankind.
We're immediately lost; the point-to-point directions I have printed out in our itinerary notebook don't make sense once we missed the turnoff for some "Unknown road." It's a tense Toilet Time in the car as we debate whether to turn around or keep going.
And then we crest a hill and there's the Harbeespoort dam below us. We're navigating by lake.
To our relief, there's good signage pointing to the Bush Babies Monkey Sanctuary and we get there just in time for the next tour. I insist on bringing my daypack which has our passports, my wallet, my phone, and the camera and video camera. There's no way I'm leaving it in the car: we're fucked if it gets stolen. I secure the pocket with our valuables with a suitcase lock: a monkey can't work a combination lock.
Within seconds of passing through the monkey airlock, there's a small, gray monkey (a capuchin, we think) on M's head. I'm deeply amused by this and am trying to get a picture when it jumps onto my back
and immediately unzips my pack's outermost pocket. Its tail is a furry, muscular vice around my neck. M tries to pull the monkey off me and is promptly bitten on the thumb. I heave it off my shoulders and it lands on the ground, snarling at Z.
M makes the valid if slightly overbearing observation that the monkey will continue to harass us if I keep wearing the daypack and we have a moment of marital negotiation with 30 impatient tourists looking on. Eventually we work out that we can leave the daypack in a locked locker in the reception area and we're finally ready to start our tour.
After this inauspicious start, the tour is awesome. Set in 17 acres of indigenous forest in a "kloof" (gorge) in the mountainside, the 2K path winds its way along carefully constructed elevated boardwalks and swinging suspension bridges. I feel sorry for the older, overweight woman panting along on her son's arm and wonder how she's going to manage the hills.
The roots of huge strangler figs cascade over rocky cliff faces and the path is dim and shaded by the thick canopy overhead. It's a well-cared-for place down to the details: the handrails are made from salvaged tree branches from the surrounding forest. Different bands of monkeys peer at us through the branches, baby monkeys hanging backwards down their mamas' backs.
The guide, crisply dressed in a khaki uniform, delivers his monkey spiel: the sanctuary currently houses 73 monkeys but has room for 300; the monkeys are retired here and will not be rehabilitated into the wild as most of them were pets and are too habituated to humans. The human keepers feed the monkeys, rather than having them find their own food, to keep the peace. The sanctuary chooses not to tell guests about the monkeys' horrific stories, but our guide does point out one monkey who was severely abused as a pet and is currently having trouble not picking fights with his new sanctuary friends. The moth-eaten monkey looks at us warily; he's currently on probation. Our guide seems passionate about the monkeys but his shaky English makes it hard to communicate. Or maybe he's mad at me for throwing his monkey on the ground.
He takes us through a construction site (one of the old buildings on the site is being remodeled into a honeymoon suite) to see the lemurs. They hang out near the carpenters, supervising from the trees, their long, striped tails hanging below them. The guide explains that lemurs are not native to South Africa, but are rescued pets and given sanctuary here. There's a lemur perched in one of the ramshackle windows of the building and it screams viciously at us. I look around wildly for Z, certain we're under lemur attack.
The tour was over too soon, and I'm left wanting to do the walk again, wanting it to slow down, to learn more about the stories and habits and prospects of the monkeys there. I realize I will feel this way the whole trip if I don't consciously slow down and be present in in this moment.
We can't do the tour again because we have to get to the cheetahs before dark.

Thursday, December 20
Cheetahs and Wild Dogs
Cheetahs can run 80 miles an hour. Seeing it happen in front of you is breathtaking – and over very quickly.
After leaving Hartbeespoort, we navigated by odometer some 30 kilometers to the Cheetah Lodge, a guest house far up a dirt road on the side of a mountain north of Pretoria. No adventure in South Africa apparently can happen without a trip up a dirt road.
The rough road, lined with barbed wire fencing, ambled up through the bush before finally stopping before a big gate. A guard let us through and into a garden out of Paradise.
Elegant green trees shaded banks of flowers and hedging, the lush coolness a welcome contrast to the bright, hot, sunshine we'd been driving through. The guard had to point us in the direction of the house, out of sight behind the trees and shrubs.
Our hostess, Elouise, a bustling and chatty woman, walked out to greet us, accompanied by an enormous bull mastiff. The breed is called a Boerboel – the first of two we would meet this trip. They are bred to be protective guard dogs (that apparently have a reputation for killing children); the two we made friends with were big, sweet, but serious dogs. Definitely not dogs to mess with.
Elouise got us settled, despite a power outage that was adding complexity to her dinner preparations for a houseful of guests. She invited the kids to explore the gardens with the warning that we were deep in the bush with all its dangers and enchantments: wild baboons, snakes, frogs, butterflies, mosquitoes. The kids didn't step foot out of that house after that. I wandered around exploring the gardens with the Boerboel for company.
The guest house was a sprawling split-level; it didn't have a fussy B&B feel, but was definitely somebody's house from a couple of generations ago. We had two clean and comfortable bedrooms on the first floor overlooking the gardens. Which was lovely until M pointed out that the bars on the windows were welded shut and there were no smoke alarms. Thank you, M, for helping me sleep so soundly.
Dinner was a conundrum: it started with a gorgeous avocado, tomato and green salad. Our travel doctor had explicitly said not to eat anything we didn't wash and peel first. But I didn't want to hurt Elouise's feelings, I didn't want her to think I thought her food was unclean somehow, and I was starving for fresh greens. To hell with it: I ate it all.
Elouise served roast beef with a sauce thick with mushrooms (hobbits would have loved it, too) on the side and roast potatoes. Z made it through the roast beef and then asked to go to bed, an unheard-of request. Dessert was fresh strawberries, blueberries and gooseberries with thick cream and meringue cookies drizzled with chocolate sauce. G polished off his berries while M and I were debating what to do. I got the antibiotics ready, and of course was the only one who needed to take one.
We had to get up at early to be at the De Wildt Cheetah Rehabilitation Centre at 8 a.m. to watch the cheetahs run. Z had had a pee accident, which was a bit embarrassing to explain to Elouise ("Just remember, it's not her fault," Elouise admonished me. "No, it was her Dad's fault," I replied, perhaps a bit cryptically because she gave me a funny look.) In the rush to get out of the house, I left behind my beloved pillow, my trusty memory foam pillow that guarantees I'm comfortable even if I'm sleeping on cement. So one pillow for a pee-stained mattress; hopefully that balances the karma.
The stakes are high for this cheetah tour to be awesome. I read about it when I first bought my Lonely Planet guide book more than a year ago, and the entire trip – heading west and then northwest from Johannesburg and then a big loop south to our safari — is more or less planned around it.
It was awesome. A peak life event.
We catch our breaths when we see the first cheetahs snoozing in the deep grass behind fences as we walk up to the reception desk. They open an eye and track Z as she walks past. Easy prey if they could just get through the fence.
Like the bush baby sanctuary, the grounds of the cheetah sanctuary are spotlessly well kept. Clean paths wind their way between trees; careful signs point to the restrooms. There is no litter. The air smells clean. It strikes me as a place of love.
In a group of about 20 tourists, we walk down a grassy corridor between large cheetah enclosures. One enclosure is labeled "White Stork" with an elderly black man holding a rake standing motionless inside. I find this enormously and inappropriately funny, but M won't let me take a picture.
One of the guides, a young South African woman whom we learn later is doing an internship for a degree in wildlife conservation, ushers us behind a waist-high chainlink fence. This is our protection if the cheetahs decide they feel like eating American children. I put Z on my back.
A pickup truck pulls up alongside, another woman jumps out, opens the tailgate, and an enormous, gorgeous cheetah jumps out. The animal is on a leash, which seems laughable. The guide walks the cheetah over to the lure and before we even realize what is happening, the lure takes off at 80 miles an hour with the cheetah close behind. At the end of the field, the lure changes direction 180 degrees back toward us and the cheetah turns on a dime. It's all over with the cheetah back on leash enjoying a treat before we even have the camera turned on.
The guides explain that some of the cheetahs are lazy and wait for the lure to come back before they pounce. They look like big house cats playing with a toy. Cheetahs use pads on the back of their legs to stop "instantaneously," says G just now as I'm writing this and looking to the kids for cheetah facts. "In one stride, they dig their claws in and stop."
We watch two cheetahs run and then it's over. I remind myself to stay in the moment, to slow down this experience.
The man is still there inside the "White Stork" enclosure, still motionless, when we file past and make our ways to the open jeeps for the feeding tour.
We stop in front of an enclosure of honey badgers and watch the innocuous-looking animals snuffling around for their breakfast. They are so ferocious that even lions avoid them. If they tangle with a male predator, like a lion, they go for the animal's genitalia.
There's an enclosure of meerkats busily keeping an eye on us, but the jeeps are waiting and we hop aboard. Z insists that we sit in the last row of seats, which means we have an unobstructed view behind us as we choke on diesel fumes.
The jeeps stop in front of an enclosure of wild cats called caracals that jump outrageously high up the fence to get at the dead baby chicks that the guides have impaled on sticks. They look like cats clinging to a screen door. As one of the cats bites down, it squirts baby chick guts all over one of the guide's face and hair. She shrieks and I thank Z for choosing seats away from spurting chicken guts.
We drive past sleepy hyenas (neither dog nor cat, but a family all their own) and lots of cheetahs. And then I fall in love with wild dogs.
One of the guides, an older black man who has worked with the animals at the cheetah centre for many years, emptied dog food into pans in the wild dog enclosure. The animals, with their big ears and beautiful dappled coats, scuffle with each other, snarling and yipping and endlessly enforcing their rigid hierarchy. They run desperately from pan to pan until every bit is licked clean and then they disappear into the grass.
The guides describe the wild dogs' hunting technique: they disorient their prey with their high-pitched barking, and then dogs bite at the prey's face and legs, while others pull out its entrails. Wild dogs are rumored to eat their prey alive, but the guides passionately discount this; in fact, the dogs trigger an adrenaline response in their prey to ensure a quick and painless death. I'm dubious about the painless part.
And then we drive into the cheetah enclosure. The guides tell us to put the children in the middle seats. What the fuck?
Two of the guides walk out into the bush banging the feeding pans and calling for the cheetahs. I look a bit wildly behind us and, suddenly, there is a giant cat padding up behind us, only feet away. And then another. And another. Five cheetahs altogether come for dinner, and there's nothing between us (specifically my children) and them but a bit of air. I don't think you could do this in the United States. There's no way you could get insured.
The huge, beautiful animals settle in for their dinner, looking like overgrown house cats. They finish their meal with some mild snarling at each other, stand up and then melt away into the bushes. They're there, you blink, and they're gone. I ask M if he feels like going for a run in the bush.
We drive through a double set of gates, and are hunted by wild dogs.
The air is full of the sound of yipping. It is intense, terrifying, confusing. It sounds like dozens of wild dogs have surrounded the jeeps. I keep both hands on G and Z. The sound goes on and on, and we can see the animals weaving between bushes and sprinting from vehicle to vehicle. Eventually the sound fades as the wild dogs tire of us, pee in their water hole and disappear. "How many dogs do you think that was," one of the guides asks? We throw out guesses: a dozen, 20, 25. "There were three," she says.
Unbelievable.
From there, we drive through a field of impala and ostrich. We play a rangers' game of spitting impala poop and yes, I put impala poop in my mouth to impress my kids. I'm fairly unfazed by anything now that I've been hunted by wild dogs.
Or that's what I thought.
We trundle back to the reception area and a group of us settle down in a large hall. One of the trainers unlocks a padlocked sliding glass door (padlocked so an idiot tourist doesn't inadvertently open it and wander out) next to us and slips through. A cheetah sidles up to her and she hooks a collar and leash around its head, rewarding it with treats. She and the cheetah then walk inside, right past us, inches from us. She invites the cheetah up on a table in front, which it deigns to do. A loud rumbling fills the air: the cheetah is purring. That means he's happy and I keep an ear focused on that sound.
In groups of four, we file up to pat the cheetah. "It's his job," the trainer says. "He's worked with a hundred thousand school kids." Yes, but not my kids, and it's very hard for this mama to walk up to a large cheetah with her small children. The fur is soft and gorgeous and we can feel the rumbling purr beneath our fingers.
I smile, keeping my ear on that sound.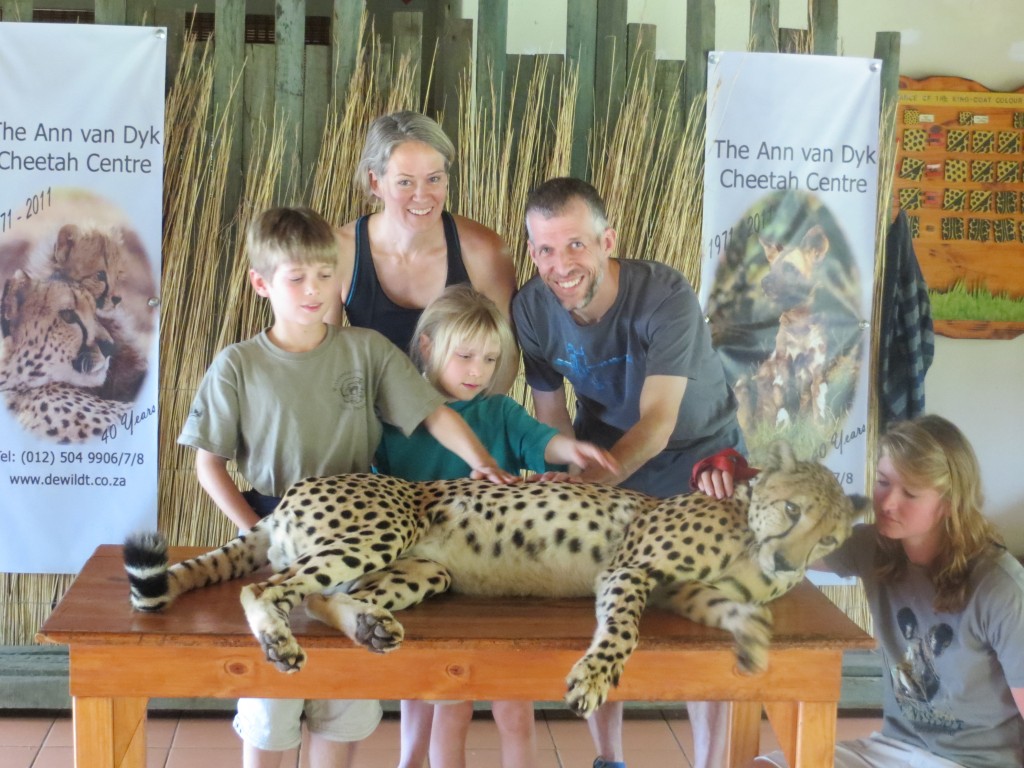 Friday, December 21
Birds of Prey
Our attention now shifts to the sky.
Leaving the cheetah centre, we're wrung out, exhausted. Lunch and an afternoon by a pool is generally recommended after a peak life experience, but we have a three-hour drive due east to a little town called Dullstroom, and no food in the car. When I do this again, I will plan either an event or a drive (or nothing at all) each day, not both.
Dullstroom is mentioned in the guide books ("The town is famous for one thing: trout, and the surrounding area is dotted with lodges and guest houses where people from all over the country come for a few days of fishing," says Lonely Planet) but the only reason I decided we'd stay there is to break up the long leg to Sabie, our next big adventure. I book a tour at the Dullstroom Birds of Prey and Rehabilitation Centre for Friday morning. Funny how little, serendipitous decisions can lead to meaningful life experiences.
Dullstroom turns out to be one (of many!) of our favorite places in South Africa.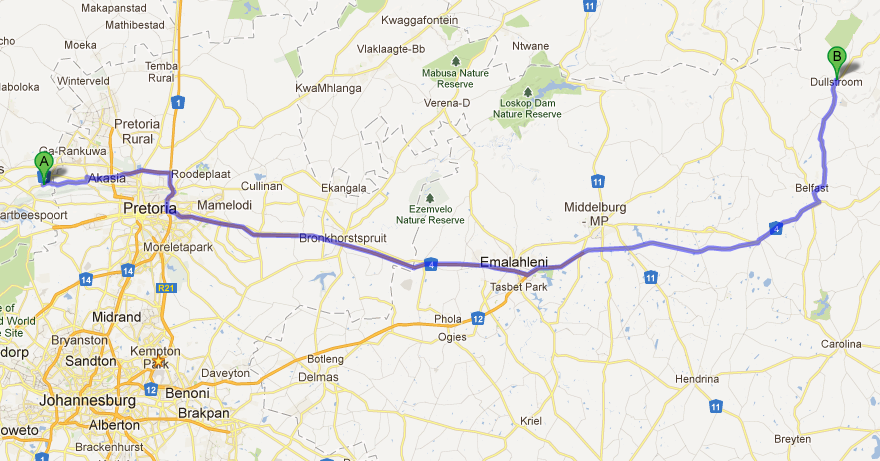 The long drive takes us past a large mining town where a highway sign says "No stopping" followed by "Carjacking Hot Spot." Oh, that's reassuring. Go, little rental car, go. What kind of wealthy country puts up a sign warning about crime like it's some kind of road hazard, rather than adding police patrols or whatever curtails carjacking? There's something helpless about it or resigned, like the police and government have thrown up their hands in the face of a natural disaster.
We don't break down, and after some uninteresting stress around finding food that everybody in the car will eat (a challenging chore), we finally pull into Dullstroom. There's a touristy main strip — there's even a "Seattle Coffee Shop" — with white tourists pulling in and out of the shops and black locals standing around on the street. It strikes me as an uneasy mix, but I'm probably still a bit freaked by the carjacking sign. We drive through town, still navigating by odometer and pull up to the gates of the Dullstroom Nature Reserve, where I've rented a cabin for the night.
You'd think we'd arrived in the highlands of Scotland.
Our little cluster of cabins look out over a small lake and then up into open, green hills as far as we can see. The air is cool. No houses, no civilization, no people. It's breathtakingly beautiful.
I think about how I'm grateful for our low standards. Having low standards — being open to staying somewhere that doesn't have any stars, that's off the beaten track — brings you to places of beauty like this Dullstroom cabin. It's clean, that's all I care about, and even that I can shrug off if I switch into camping mode.
I feel soaring happiness in the sunny afternoon high in mountains of South Africa.
I then do something very brave: I drive into town by myself on the wrong side of the road to go grocery shopping. And promptly get lost and have to ask for directions. "Where's downtown," I ask an Afrikaaner couple out walking their dachshund. "This is downtown," the man replies like I'm an idiot, waving his arms at the houses around us. He gives me convoluted directions to the grocery store that I promptly forget, and I thank them and drive off.
Eventually I find the grocery store, a dingy adventure in food shopping, and stock up on breakfast, lunch and dinner — my first real grocery shop since arriving in South Africa. The meat refrigerator was almost exclusively beef, a couple of boerwurts (which I avoid), one packet of lamb, and one poleaxed chicken. I have this idea that we'll grill chicken for dinner, but everybody except M falls asleep before it's cooked.
Once the sun sets, I start feeling vulnerable, grateful knowing that the cabins next to us are occupied and that the front gate, presumably, is guarded. But I'm scared, and that is the cost of our serene isolation.
There is only a queen and a twin-sized bed, so we make up the couch (please let there not be bugs!) and pull it next to the twin to make a trundle-like bed for G. I have a strong and definite need to sleep with my children, and settle down rump to rump with Z on the narrow twin bed. She tells me in the morning that she woke up in the middle of the night, wondered what I was, decided I was "too squishy to be Gavin, must be Mommy," and fell back asleep.
Early the next morning, M goes for a run to the top of the mountain across the lake. I'm jealous, but too leery to go running by myself. I wish I had a boerboel.
Once we're packed up, we go for a walk (Z is instantly suspicious that we're going hiking) to the mountain. I race G up the mountain path; the little shit dusts me. We can see a train in the distance, behind our cabins. We are so in Africa.
We arrive at the bird of prey center with plenty of time to wander around before the flying exhibit. It has the same feel as the cheetah and bush babies sanctuaries: well-kept, park like, clean, loved.
Grassy paths wind through tall enclosures filled with tall grasses, bushes and trees – and beautiful birds – with sweeping views of green hills and lakes beyond. Peering into the thick grasses of an enclosure, we hear tiny owls hissing at us. We read the chatty, witty signs in front of each enclosure telling stories about the histories and amorous misadventures of the birds inside. I already have a crush on the writer.
We gather with a handful of South African families and sit on benches in a large, sunny field. Mark, the funny Englishman who owns the place (and is clearly the sign writer), introduces himself and his assistants, and the show is on, full of birds and interesting bird facts and Mark's off-color hilarity. (If I were a single Englishwoman, I would be heading to Dullstroom to make friends with Mark!)
An enormous black eagle (a Verreax eagle) sails inches from our heads, landing on Mark's gauntlet and tears at a bit of dead chick. Mark tells us that they weigh the birds before they fly them to make sure the birds have digested their last meal; the term "fed up" is originally a falconry term.
We watch hawks (South Africans call them buzzards) and owls fly gorgeously across the field. M is hit in the face by one of the bird's wings. Mark brings out a peregrine falcon and swings a lure in great loops over his head, the falcon diving and plummeting after it. It is an awesome sight.
The birds come to the rehabilitation center after getting hit by cars or hooked by electrical wires or caught in barbed wire fencing. The vultures often arrive poisoned: poachers poison the carcasses they leave behind so the vultures don't give away their location. The center patches up and releases the birds who can fly; birds that are too broken remain as retirees at the center. I ask Mark if it's sad to watch a bird he's cared for and loved fly away. "It's the best feeling in the world to watch a wild thing fly free," he said.
The show ends with a raven taking coins from the children's fingers and depositing them in a bowl. Z would have given that bird coins all day.
After the flying exhibit, everybody else leaves, and the kids have a private flying lesson. "Who wants to go first?" Mark asks and my fearless Z steps up. He puts a large glove on her arm and a giant jackal buzzard lands on my small child's wrist, its enormous talons and sharp beak inches from her face.
It grabs a piece of something grisly and flies off. Both kids fly hawks and eagles and owls. I can't wait to do this in Seattle — Mark says there is a falconer in every city.
I wish we could spend the rest of the day exploring the Dullstroom Nature Reserve; I wish I had known when I was planning this trip that Dullstroom would be a place where we would want to slow down and just be.
But we need to get to Sabie, about an hour and a half away, before dark. We have elephants to meet.

Saturday, December 22
The Afrikaaner and the Praying Mantis
I've been looking forward to the drive to Sabie over Long Tom Pass ("…one of Mpumalanga's most scenic drives," according to Lonely Planet), forgetting that a drive with kids is just a drive. To the tune of "How much longer?" the little rental car slowly grinds up the long uphill, 2150m at the top, past clear cut pine forests planted in endless rows, and then swooping down into the little town of Sabie. We pull through the gates of BillyBongos Backpackers, where we're staying for the next two nights.
When I was planning this trip, I talked with various Africa travel experts and didn't tell any of them we were staying in a backpacker hostel — I don't think they would have approved. But it's cheap, just R600 ($66) for a family room and I'm curious who we would meet there.
"This place has a definite party atmosphere with nights full of drinking, bongo drumming and bonfires," says Lonely Planet. That should give the kids something to think about.
The guard lets us through the tall gates and Garth, the owner, meets us on the lawn, a can of Black Label in his hand. He's grizzled, affable and I'm instantly comfortable. The guard Tony, whom we later learn is from Malawi, a country I'm mortified to have never heard of, shows us around: our large, bed-filled room with a little kitchenette and bathroom; the communal kitchen and lounge; the patio and "swimming pool," a large, dark tank of cold water that the kids won't go near. The place is a jumble of rooms, corridors and steps and stairs, and is spotlessly clean.
We settle in with a sigh of relief. We've been on the move for a week and are happy to stay put somewhere for a day. I'm just disappointed there's no one else there; there's no party.
Garth has two dogs, an enormous boerboel and a yappy Jack Russel puppy that the boerboel occasionally tries to eat. I sit on the patio talking with Garth and patting the boerboel while the kids wander around and play with the puppy. I ask Garth if I can buy a beer; he brings me a six-pack of Black Label. "Bring me a six-pack tomorrow," he says. I'm developing a taste for terrible beer in a can.
Without thinking, I stretch my legs out over the boerboel sprawled on the cool tiles at my feet. The dog whips its head around and I realize I have trespassed, this is no footrest, this is a serious-ass dog. "I don't entirely trust her around kids," Garth says. I closely monitor G&Z's interactions with the boerboel after that.
The hostel has wireless and I lose M to his electronic devices for the evening. He's able to check email for the first time in several days and learns that our tour with the elephants, scheduled for 6:30 a.m. the next morning, has been cancelled due to "industrial action." Disappointing, but M and I are both glad not to get the kids in the car at the crack of dawn. No plans for tomorrow, I wonder what we'll do?
We have spaghetti and sauce for dinner and are in bed, one of the most uncomfortable mattresses I've ever lain on, before nightfall. I feel completely safe for the first time in a week.
The next morning I have coffee with Andre, a high-energy South African who runs a mountain bike tour company out of BillyBongos. He has some ideas of kid-friendly walks we could do, but I'm intimidated with the prospect of finding trailheads and getting permits. "What are you doing today?" I ask him. "Would you come with us?" And with that, we have a local guide for the day.
Travelling with kids can be a funny frustration: we're an hour's drive from the Blyde River Canyon, the third-largest canyon in the world, which I'd love to see, but the kids are sick of being in the car and Z will refuse to hike down some canyon. So close and yet so far, and I'll have to see the Blyde River another time.
Andre takes us on a short hike to a nearby waterfall instead. It's the only "non-commercial" waterfall in the area: i.e., no tour buses. Sounds good to us and he seems happy to be walking at kid pace, rather than his usual extreme mountain biking pace. (He had ridden 60K on trails with a client the day before.) I relax in the intense greenery of woods. There is no way we would be doing this without Andre, no way I would have felt safe wandering off into some woods. But our guide is confident and comfortable (with his very expensive GPS watch) wandering down the path, showing us bugs and plants. "See this?" he asks, showing us a baby praying mantis on his finger. "If this were the size of a German Shepherd, it would be the most ferocious predator on Earth."
We walk through indigenous forest, thick with vines and grass, the air screaming with the sound of cicadas. Andre points out a bladder tree; its leaves can be made into a tea to treat bladder infections and other ailments. The path leaves the jungle and we're suddenly in a pine forest, apparently part of the largest man-made forest in the world. Rows of pine trees stretch out of sight over the hills around us. There's very little undergrowth, except for a few ferns. It's silent. It feels ironic to have come from the Pacific Northwest, with its glorious evergreen wilderness, and go hiking in a fake forest.
We picnic next to the waterfall, where Z looses a loose tooth. A couple of locals are hooting and hollering under the waterfall but I'm not tempted to jump in; our travel doc was explicit about the worms in fresh water.
By the end of the hike, the kids are totally done with adventures and we decide to go to the Merry Pebbles Resort, a camping/caravaning/cabin-y accommodation just down the road from BillyBongos, for an afternoon swim and early dinner.
The one sour, unpleasant, inhospitable interaction on the whole trip is about to happen. Before I start this story about the Merry Pebbles Resort, it is only fair to say that their website does say no day visitors. Granted, I did try to bend the rules.
The Afrikaaner behind the reception counter was having none of it.
We drive in through the gates, past empty camping sites, and lots of blonde kids running around in swim suits. We poke our heads into the enormous, empty and ill-smelling restaurant and go to reception to see about a visitor's pass or day pass to the pool. The tall, porcine man behind the counter tells me in his Germanic accent that it is not allowed and that the restaurant isn't open for an hour.
"Come on," I say, smiling beguilingly (that usually works). "We've got an hour to kill and I've got little kids here who would love to go swimming. We're going to have a big dinner in your restaurant. Any way you could make an exception?"
"No," he says brusquely. The man is getting annoyed, like I'm a real imposition on his day. Maybe he doesn't like Americans. Or American women who don't go away.
Still looking for options, I suggest, "What if we make a reservation for a camp site?" That seems like a very reasonable compromise: that way we're not day visitors, we're paying for the use of the pool, everybody's happy, right?
Wrong.
"Seven nights' minimum," he says.
"Why is there a seven-night minimum?" I ask. "All the campsites are empty — it's not like we're going to prevent you from booking other families."
He just looks at me. I'm a little out of my element here; I don't know whether demanding to see the manager works in South Africa. I do know that if I have too unpleasant an experience, it's going to spoil my mood, so I back off, dumbfounded.
The kids are disappointed not to get to swim and Z says in her piercing, seven-year-old sarcasm, "Nice planning, Mommy."
As we're standing there, discussing our options and me making unreasonable connections between that Afrikaaner and apartheid policies, a police car pulls into the parking lot. I bundle the kids in the car and we leave the Merry Fucking Pebbles Resort. Don't ever go there.
We drive into town, me still self-righteously fuming — I guess I still am! — and find a lovely Greek dinner at The Woodsman Pub & Restaurant. We sit on the porch overlooking the little town, and M and I share a smoked trout, impressing the kids with the white eyeballs. Z orders the ostrich fillet. Early to bed — we're headed to Swaziland in the morning.

Sunday, December 23
Chimps and Rough Roads
Google said it would take us 3 hours to drive from Sabie to the Malolatja Nature Reserve in Swaziland. Google shows the highway in Swaziland as a nice, thick line. It even has a name: the MR2.
Oh, Google.
We were packed up and headed out of Billybongos at the crack of dawn. Tony, the guard from Malawi, gave me a hug goodbye before creaking open the big gates.
Among the many magical coincidences of this trip was discovering a Jane Goodall's chimpanzee sanctuary right on our way south to Swaziland. What are the chances that the sanctuary of "Chimp Eden" fame would be just off the road we're driving down? We didn't even have to go out of our way.
The sanctuary had the same feel as the other wildlife sanctuaries we visited: well kept, green, loved. The chimps came strolling out of the bushes as we walked up, looking forward to their nut snacks. One chimp, whom our guide Mark described as mentally damaged, sauntered up; Mark told us to duck if he crouched down and picked up a rock. Apparently he likes to ding the tourists and his aim is good. I stayed crouched.
Mark was funny and well-informed and clearly doing his life work rescuing and caring for chimps from all over Africa. Many of the chimps were young orphans of the illegal "bushmeat" trade or were rescued pets or roadside zoo attractions. Mark explained that our DNA is 96 percent identical to chimpanzees and likened the roasting of chimps to cannibalism.
"Hey, this is a family show," he shouted at the alpha male trying to bed down a female in front of us. That would have been an interesting conversation with the kids later.
The chimps were organized in adopted family groups in enclosures so big that we couldn't see the fences on the other side. The fences in front of us were impressive with a tall chain link fence bordering a second electrified fence. This is the same sanctuary where an American graduate student stood too close to the fence last summer. The chimps pulled him through the inner fence by his feet and ripped him apart.
"They attacked him like they would attack any male chimp," Mark said. "They go for the fingers, the face, and the genitals. He will never be the same again."
We stayed far away from the fences.
After saying goodbye to the peaceful, scary chimps, we were headed south to Swaziland. The border closed at 4 p.m. and we had to make tracks.
We stopped in a town called Barberton just before the border to stock up on groceries and cash. As we were driving through town, I noticed a house tucked next to the road. An ordinary, modest, unexceptional house. And then I saw what had caught my attention: the house didn't have any walls around it. Every single house we saw in South Africa, every house without exception, had high walls topped with barbed or razor wire. Except for this one house.
Fear is contagious in South Africa, always surrounded by walls and razor wire. My fear abated for a moment as we drove by this normal, ordinary house without walls or razor wire or scary dogs.
Driving through the border between South Africa and Swaziland was a trip back in time. The elderly Swazi border policeman carefully entered our names, nationality, and passport numbers into an enormous paper ledger: this was not a computerized world.
The kind policeman at the gate gave us our first clue that the 23 kilometer drive to Piggs Peak, which Google says would take 23 minutes, might be something different than what we were expecting. "It's a gravel road," he said dubiously. We waved happily and headed down the hill.
And were immediately lost. An intersection of three dirt roads (gravel would be an overstatement), and no signs to Piggs Peak, the first big town after the border. After much three-point turning on the muddy road, we finally saw an old, rusty road sign completely hidden by bushes.
And then the adventure began.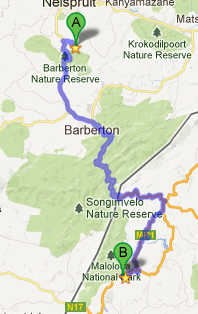 The road, winding its way through planted pine forests and clear cuts, got rougher and rougher. We do a lot camping at fairly remote campgrounds way out on alarming Forest Service roads in the North Cascades; this major highway made those FS roads seem smooth and accessible. Erosion had torn out great chunks and timber trucks had churned it into a muddy stew. M helped me pick out the most optimal path, the little rental car bucking and heaving beneath us. There wasn't a soul around.
At what point, I wondered, the kids quiet behind us, do I decide this is too dangerous? At what point am I being irresponsible and you're going to read about us in the newspaper? Nightmare scenarios of being stranded in the middle of nowhere with night and bandits approaching played through my mind. At least the car was full of groceries.
Never have I been so relieved to see pavement. Those 23 kilometers took us a good two hours to navigate. I'm not even exaggerating for the sake of a story.
The rest of the drive to the Malolotja Nature Reserve was a breeze on good roads. And then through the big gates and into a magical place on Earth.
There are places I've been in the world where I feel peace. Where the land feels good and kind. I feel this goodness in the San Juan islands; I've felt it in the mountains cupping the Methow Valley in the North Cascades, and at World's End in Hingham, Massachusetts. I bathed in it for two days, too short, in the Malolotja Nature Reserve in Swaziland, in Africa.
Herds of blesbok scramble out of our way, calves lurching in panic, as I nose our rental car over the grassy road to our cabin. It is late afternoon and the air is warm and sweet high in the mountains.
The cabin is a visual definition of rustic: small kitchen, dining room table, and living room chairs on one level; two bedrooms and a bathroom a couple of steps up — efficient, contained, perfect. The beds were made up in billowy white sheets. Everything that could be cleaned was spotlessly clean; the rest of it — carpets, walls, floors — were, well, rustic. There were no towels or dishtowels, which is not an important detail until it is.
From the cabin windows we could see rolling, green hills studded with rocks, the sun beginning to sink behind them; thousands of swallows soaring overhead, the occasional blesbok or zebra picking its way down the hill below us.
After an odd dinner of white rice and curry sauce (I was in a hurry in the Barberton grocery store), I jerryrigged mosquito netting over the beds. I needn't have bothered netting my own bed; once the sun went down I bundled in with the kids. In any case, I hadn't closed the window properly next to my bed, so any malaria-laden mosquitoes were trapped inside my mosquito netting. It was just as well I slept elsewhere.
Early to bed: we're flying in the morning.

Monday, December 24
Malolotja Canopy Tour
I wake up early the next morning to sit quietly in the Swazi dawn before the kids wake up. But my brain is too busy writing (this!) and I pull an arm chair onto the porch and write for a couple of contented hours.
And then it's time for our Malolotja Canopy Tour, the reason I stumbled on this magical nature reserve in the first place.
We meet our guides: Peter, a local Swazi man who tells me that he grew up on the other side of those hills around us; and a local Swazi woman whose name I regret not to remember, with the most beautiful, thick ponytail of long, tiny braids. Peter gives us a stern lecture about safety, we're suited up, and then we and a Spanish couple from Mozambique clamber into the back of a pickup truck with safari-style seats and we bump over the grassy hills.
I wonder where the canopy comes in. There really isn't a tree to be seen.
The truck starts bumping down a deep gully folded between the grassy hills and the canopy concept becomes clear: We're sliding off cliffs, not tree trunks.
The kids get quieter and quieter.
We each do a practice slide about 30 feet off the ground so the guides can determine whether we will be good clients or problem clients.
Z forgets to use her hand as a brake and flies into the lead guide at the end of the slide. She decides, on no uncertain terms, that she is going to ride tandem with Peter. She's disappointed with herself, but M and I applaud her for asking for help when she needs it. Not many of us grownups can do that.
Booking this quite hideously expensive tour was the genesis for my idea to stop at an orphanage. The two-hour tour cost our family $200; about 10 percent of what an average Swazi person makes in a year. I wanted to experience something we would never pay for in Seattle ($200 to ride a zipline?!), but I didn't want this rich, middle-class American family to just drive away across the countryside, enjoying the scenery, playing in the mountains, without giving something — even a small thing — back. Hence the 50-pound suitcase in the trunk making it really hard for the rental car to summit the mountain passes. More on the orphanage later.
Back to our decadent zipline ride: Eight platforms without railings, lots of clipping on and off of ropes, and then a thrilling second or two of a ride before concentrating on braking before slamming into the next platform. Really all I remember about the whole experience is wondering what I was going to do if one of the kids fell down into the rocky ravine far below us. A bit stressful for this mama.
On the hike back to the truck I asked Peter if he had any recommendations for places to buy treasures to bring home with us. He suggested a roadside market just outside the reserve's gates. And then, very casually, very modestly, admitted that he made creatures out of tin cans. We could see them in the curio shop if we liked.
We bought all the tin creatures in the curio shop. They now have pride of place on my mantel.
Lunch was part of the tour package and a gentle, older woman shepherded us to a table in the large, tented dining room. We looked with dismay at the beautiful salad which we couldn't eat and sandwiches with a mystery filling that my ridiculously picky children and husband would not touch. I did the best I could, but I'm afraid we hurt her feelings.
That afternoon, I decided to be very brave and drive with the kids to the roadside market just outside the reserve's gates, leaving M stretched out on the porch in an armchair. I organized some cash in a very complicated system of small bills in one pocket and larger bills in another and backup bills stashed in the car, and we set out, me humming to myself, "Stay to the left, stay to the left."
The roadside stands along the side of the quiet highway are planks of wood on rickety legs, covered by canvas or corrugated roofing. The people tending the tables wait for customers in small rock shelters, emerging from the shadows to show off their treasures as we walk up. "Do they live in there?" Z asks dubiously and is relieved by my explanation that the odd, stone shacks are most likely sun shelters. Wood is obviously scarce and rocks are abundant.
We take our time, examining each table, making decisions about gifts to bring back with us. Some of the shopkeepers, mostly older women with very bad teeth in their kind smiles, show us how they carve and polish and dye the soapstone to make the little lions and giraffes and other treasures. They quote me a price and then carefully assure me that I get a 5 rand (50 cent) discount. No one hassles us, no one follows us around; one shopkeeper even advises G to look at everything before making a decision.
I rapidly spend all the bills in my pockets and had to go back to the car several times to replenish my cash, neurotically locking the car behind me each time. After we bought Grandmommy a tiny pool of hippos with a sprig of green growing in it and a wart hog for Grandpa "because it reminded us of him," we head back to the car.
I realized, as I sat down, that despite all my locking and relocking of the car, I had left the driver's side window wide open. I check the glove compartment: the cash is all there. My fear of being robbed on that sunny, quiet road was an endlessly exhausting construct in my head; I was too wrapped up in this story of fear to hear the kindness around me.
Flustered, I pulled the car onto the road and wondered, nonplussed, at the car coming head on in my lane. I tried to signal and promptly turned on the wipers. Pulling off to the side of the road for a timeout, I waved with embarrassment at the folks by the side of the road watching the crazy lady driver.
We made it back to the cabin safely and the rest of the day was spent climbing rocks near our cabin, eating the odd assortment of groceries, and wrapping the couple of presents I brought from Seattle. A lovely Christmas Eve.
Tomorrow is Christmas and the start of six luxury days on safari. But we're delivering books to an orphanage first.

Tuesday, December 25
Books, Frisbees and Chocolate
The Christmas present I gave myself was to be settled comfortably on the hillside with a cup of coffee before dawn. I sat on a blanket against the backside of the cabin, and watched the sun rise over the hills, and felt peace.
Eventually I could hear stirrings inside and rose to make Christmas happen for my kids. They were very relieved that it did.
And then it was time to pack up. We have Christmas gifts to deliver to an orphanage.
When I was planning this trip and realized we were going to be in Swaziland on Christmas Day, I googled "orphanage Swaziland" and emailed the top search returns. Within hours I had warm invitations from several orphanages (the Internet is a marvelous thing) and a plan to visit the New Hope Orphanage in Manzini, Swaziland.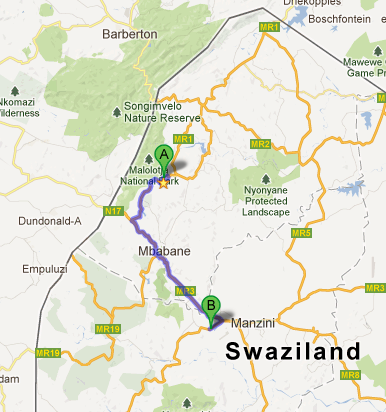 My vision was to bring books, frisbees, and chocolate to the orphanage. Books because kids should have books, and frisbees because it's an easy way to connect. Everybody likes throwing a frisbee. And chocolates because it's Christmas.
I mentioned this plan to the kids' dentist and he promptly donated two large cartons of flouride children's toothpaste (thank you, Dr. Stuehling!). Z's elementary school community donated a big pile of books and I went nuts in the book section at Goodwill (I have book issues). The director at New Hope requested duct tape and white glue, neither of which are easily available in Swaziland. This was one heavy, packed suitcase!
M took a look at the suitcase before we left. I had bought 50 chocolate santas and candy canes. And in one of his gem-like contributions he wondered what would happen to that candy in the trunk of a car under an African summer sun. I replaced the candy with three cases of (organic) Clif Kid Z-bars, which are healthier anyway.
We had planned to visit artisan markets on our way to the orphanage, forgetting that everything would be closed on Christmas Day, so we arrived at the orphanage early. Everyone was still at church, but the guard let us in the massive gates and only a little suspiciously allowed me to use a bathroom I was in desperate need of. Once I could see straight again, I looked around at the orphanage.
The orphanage complex is up a long, dirt road at the top of a hill with an expansive view over the town of Manzini. Several wooden buildings cluster around a tree and playground on the hill. It has the feel of a working farm: solid and cared for, and showing the wear and tear of lots of dogs, chickens, cows and kids. It strikes me as a well put together place with no hint of the grief and loss behind its story.
Swaziland has the highest HIV rate in the world: a staggering 25.9 percent of adults are HIV positive, according to UNICEF. Life expectancy is 47.3 years for women and 43.2 for men. I found an article that says 120,000 children have been orphaned by AIDS, or 10 percent of the population.
Finally church is over and the children arrive.
"You must be Kathryn!" says a middle-aged white woman with beautiful blue eyeliner as she hugs and kisses me hello. She is Elizabeth, the founder and director of the orphanage. Kids tumble out of a van behind her. The little ones have fallen asleep and have to be woken up.
Fifty children live at the orphanage, from the toddler triplets gazing shyly at us to teenagers returning home from college for the holidays. Everybody's hungry and sleepy: they were up late the night before celebrating Christmas Eve and up early this morning for Christmas services. We decide to hand out the Z-bars to tide everyone over before lunch.
I immediately think of Halloween. Every year I'm annoyed by the trick-or-treaters grabbing handfuls of candy and walking off my doorstep without saying thank you. These Swazi children took a Z-bar only if prompted — "Would you like one?" — otherwise they walked past, eyeing the box of chocolate bars curiously. When they took a chocolate bar, they picked it up with their right hand, their left hand clasping their right wrist. Each one of them looked me in the eye to thank me. I hope I didn't do this for the thank you, but it is a lovely feeling to be thanked by a child, with no prompting.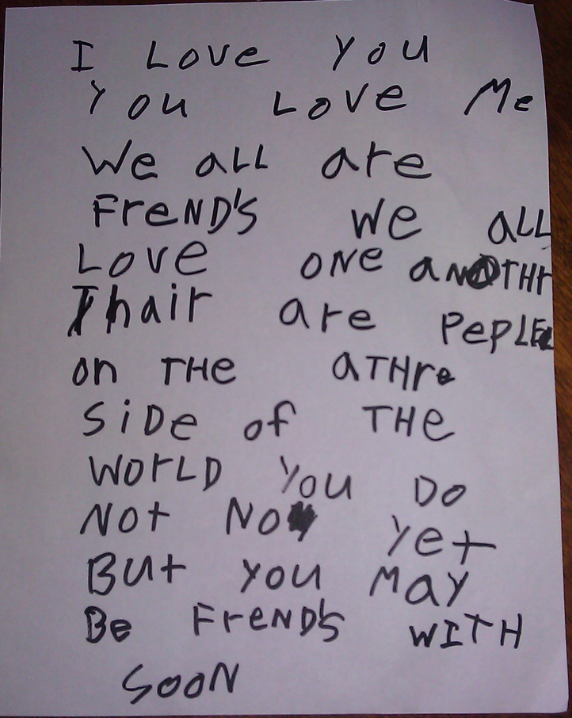 M hauls the suitcase to Elizabeth's office so we can figure out how to distribute the books. When I was packing, I wasn't sure how many children would be there or their ages; happy luck that I happened to bring 55 books. Every child would have one.
By now, Z is busy handing out Z-bars with another girl and has disappeared. Looking out over the hillside, I see the two girls playing on the playground, upside down on the monkey bars together. Several cows amble down the hillside and both girls back cautiously away. "They were really big," Z tells us later.
Just before our trip, Z wrote the following musing on travel and friendship (I've translated her 1st-grader writing):
I love you
You love me
We all are friends, we all love one another
There are people on the other side of the world you do not know yet
But you may be friends with soon
I watch the girls run across the hillside to sit on a porch together. I wonder what they're talking about. And that moment right there, that connection between these small children from different sides of the world, is the reason we came to Africa.
We talk with Elizabeth on the deck in front of her office. Born and raised in Swaziland, she is well spoken, confident, well traveled. And very much a woman of God.
"I received a vision from God," she explained as we talked about the founding of the orphanage 10 years earlier. I'm immediately curious. "What were you doing when you had this vision?" I asked. In the shower? At the grocery store?
She was fasting, on Day 4, when God downloaded what the orphanage should be. As AIDS ravages families, children are left raising children. God told her she needed to raise leaders who could help raise the children.
"We are going to have a Lord of the Flies situation here," she said.
Within a year of receiving that vision, she broke ground on the first building. All the buildings are made of wood "like Noah's Ark," Elizabeth explained. Ten years later, the orphanage is sending children from that first class to college; to opportunities to study abroad; one kid is training to be a white water rafting guide.
Looking around at the heft of the place, I think about what one person with a vision can do.
As we're talking, a steady stream of children visit the office and leave with a book in hand. In front of us, four children are sitting on a low wall, reading the books we have brought. Glancing in the office, I see a boy reading at the desk in there, our books from Seattle piled around him.
It's just about time to leave, we have a long drive ahead of us, but I convince M to throw a couple of frisbees with me before we go. Within seconds, we're throwing with a bunch of boys and the air is thick with flying discs. I see a girl, maybe nine years old, leaning against a tree, watching. I catch her eye and waggle a frisbee at her. A smile lights up her face. We throw back and forth and I love that I feel connected.
Later, I think about how in middle school, my aim was to be president of the United States; in business school it was to lead a company; now it is to make a child smile and I defy anyone to say that that is a less august ambition for a meaningful life.
In the distance, thunder rumbles and we can see jagged strikes of lightening. It is time to get going. We pile into the car and wave goodbye to Elizabeth and those beautiful children, on their hillside, throwing frisbees.

Wednesday, December 26
The First Game Drive
We arrive at Zulu Nyala, the private game reserve where we'll be staying for the next six nights, at dusk and in the middle of a violent lightening storm. I'm wracked by four hours of driving in heavy rain, enormous flashes hitting the ground on either side of us. M reassures me that a car is the safest place to be, but I seriously doubt him.
We finally and gratefully see signs for Zulu Nyala on the highway, and follow them off the exit and onto the dirt roads of South Africa. Our GPS coordinates for Zulu Nyala are inexact and leave us at a train crossing and no buildings in sight, with the rain pouring down and lightening flashing and dusk descending. We follow the signs for another 20 minutes — not a long time unless you and the children traveling with you are exhausted with driving — up the side of mountain to Zulu Nyala's main gate. The guard checks us off a list, writes down our license plate number, gets my signature and then, oddly, salutes us. He tells us to stay to the right.
Stay to the right? Which right? What? But he's already disappeared into the rain.
After several intersections where we stay to the right, we reach a crossroads of dirt roads with one sign pointing to the left that says "Guests" and the one to the right that says "Deliveries". Right or left? We decide we're more likely guests than deliveries and head left. Evidently the guests get the scenic drive with the authentic South African rough road. I'm fed up with driving, fed up with dirt roads, fed up with rain and and drive so fast up that mountain that M tells me to slow down, that he'd rather we got there in one piece. That has to be a first.
Finally we arrive. All we can see is muddy parking lot and a low, thatched entrance. The receptionist, an Indian gentleman with an unctuous smile, offers us fresh squeezed orange juice and tells us that Christmas dinner is down the mountain — that we just drove up — at the Zulu Nyala Safari Lodge. That would have been welcome information about 40 minutes earlier, and we turn around and head back down the mountain, following a line of safari vehicles.
Zulu Nyala is nice, really nice. It's the kind of place M and I hate; we would never be here if I hadn't been so drunk and competitive at the school auction. After 10 days of adventuring, I hate being in a large, fancy dining room full of wealthy Americans. I have a sense of culture shock, standing in the buffet line of a lavish Christmas dinner, six hours after delivering books to an orphanage. We're seated at a large, round table and I'm terrified that we're going to have to sit with people and make chit chat about who we are and what we do. Luckily nobody sits with the exhausted, grungy family from Seattle.
I notice a woman there, she's from Denver, the young side of middle-age, elementary school children, reasonably athletic, probably politically and socially liberal, she even looks like me. I'm sure we'd be friends and I hate her. It's definitely time for bed.
Except we have to drive back up the mountain. And have no idea where the game lodge is in the dark and rain. M has to get out of the car and ask the guys driving the safari vehicles for directions. "Not my job," he mutters, stalking off and making me smirk. Sometimes it's good to be the driver.
Following a safari vehicles back up to the game lodge, we stop abruptly on the muddy road. Through the rain and just outside the shine of the headlights in front of us, something huge crosses the road in front of us and silently disappears into the dark bushes. An elephant. A ghost.
Before we can drag ourselves and our luggage to our room, we meet Siphoe, our game guide for the next 6 days.
The first thing I notice about him, other than that he is a very attractive Zulu man with a shy, self-conscious smile, is his hat: he has a most excellent bush hat. A cross between Raiders of the Lost Ark and Crocodile Dundee. A battered leather hat with a wide brim and mesh top and a chin strap that he's uses to keep the brim up on the sides. I admire his hat all week.
He tells us in his heavily accented English that we're going on our first game drive at 6 a.m. the next morning. M and I look at each other in dismay. No way. We're not going. He can't make us.
We settle for 8 a.m. and stumble off to gorgeous king-sized beds, and a bright, clean bathroom with a giant tub, and air conditioning and a secure door that locks heavily behind us for the night.
Although the morning dawns clear, the heavy rains the day before mean the dirt roads through the reserve are impassable and Siphoe cancels our 8 a.m. drive, rescheduling for the afternoon.




The rest of December 26 through January 3 still to come…